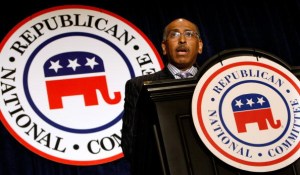 Michael Steele just delivered his speech at the NAACP centennial celebration in midtown. Steele, the chairman of the Republican National Committee who is Africn-American, joked "I'm here to protect the tax-exempt status of the NAACP."
He later, jokingly, compared his rise in Republican circles to the work of the hundred-year-old civil rights organization.
"It took me six ballots but the brother made it through, so I know what struggle is," Steele said, drawing some laughter from the crowd.
Steele said he understands the struggles that took place before him so that everyone could have a seat at the lunch counter, but added, "I also know what it will take for future generations to own the diner."
He reiterated his call for Republicans to build "coalitions" and not just do "outreach" to minorities. When he said the word outreach, he made quote marks in the air with his fingers and said he "banned" the word from the RNC offices.
Steele tried leaving the crowd on a high note, while still pressing the notion that the Republican Party is ready to embrace African-Americans.
"If a black man can become the chairman of the Republican National Committee, then anything is possible," he said.