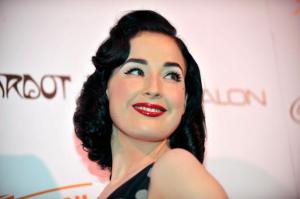 When the Transom reached the socialite and philanthropist Lisa Anastos by phone on Thursday afternoon, she was driving to the Hamptons and it had just begun to rain. "Hold on, I don't want to crash and kill myself!" she said, presumably putting in her earpiece.
Ms. Anastos was driving directly to the Watermill Center, an arts and humanities foundation in Southampton, for which she has served as a co-chair for the past five years. Watermill's major benefit, titled "The Last Song of Summer," will take place the last week in August, with Rufus Wainwright and Norah Jones scheduled to perform. But this Saturday, July 25, is the center's 16th annual summer benefit: a yearly spectacle of curious performance art that in years past have included a blindfolded nude woman covered in blood; Tibetan drummers; and people dressed as animals roaming in the woods nearby. Each year, artist and Watermill Center founder Robert Wilson chooses a theme. Last year it was "Marlene Dietrich in Dr. No's Ludovico-Clinic." This year's theme is simply "Inferno."
"Inferno is however you interpret it," Ms. Anastos said. "The dress code is 'flaming' and it will be interesting to see how everyone will interpret it." She will be wearing a gold dress by Kai Kuhne that she described as "short," "fringy" and "flamy."
"It's really fabulously outrageous," she said. "It's flaming meets a modern-day Tina Turner."
The donated art works will go on preview tonight so that guests can stop by and examine them up close before bidding the following evening. There is a 2009 piece by Terence Koh called No Longer Human, of a naked man holding two skulls, with an estimated value of $20,000; 1976-1987 gelatin prints by Andy Warhol called Hand, estimated at $70,000; a 1983 print of a walking male torso by Robert Mapplethorpe valued at $8,500; and a 1971 lithograph titled Netherlands by Willem de Kooning, estimated at $10,000. (Ms. Anastos is especially excited to bid on Mr. Koh's work, who she said is her favorite, and the de Kooning, which she pointed out has some import since the artist had a home in the Hamptons.)
The auction will be led by art dealer Simon de Pury. "He knows a number of guests so he really engages the crowd," said Ms. Anastos.
Among the honorary co-chairs are downtown celeb couples Laurie Anderson and Lou Reed, Iman and David Bowie; actors Steve Buscemi, Kim Cattrall, Alan Cumming, Harvey Keitel, Isabella Rosellini and Willem Dafoe; architects Frank Gehry and Richard Meier; artists Nan Goldin, Jenny Holzer and Jeff Koons; photographer Annie Leibovitz; designer Zac Posen; and burlesque performer Dita von Teese.

"Everyone's support is an ode to Bob and everything he's done with the Watermill Center," gushed Ms. Anastos, who as the co-chair said she has been "harassing" her friends, asking them to buy the tables that start at $10,000.
Last year the organization raised $1.5 million; this year, they are hoping to exceed that number.