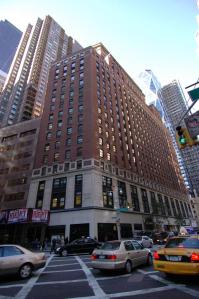 You tired yet of the J. C. Penney ad blitz? Just you wait. Thrifty is taking Manhattan.
Sources tell us that T. J. Maxx is actively looking to plant a second store in Manhattan and has recently homed in on Wien & Malkin's storefront retail at 250 West 57th Street, between Broadway and Eighth Avenue. The discount retailer has another outlet at 620 Avenue of the Americas, according to its Web site.
Neither Cushman & Wakefield's Joanne Podell, who is repping the landlord, nor Ripco's Peter Ripka, who is repping T. J. Maxx, would comment, but the building has more than 46,000 square feet of available retail space in the basement, ground floor and first floor, according to real estate database CoStar.
The edifice sits across the way from the Hearst Tower, its ground floor still vacant after years on the market, though a deal of some sort is said to be in the making, possibly with Anthropologie.
drubinstein@observer.com