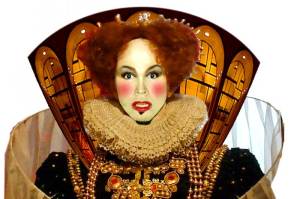 "It wasn't my intention to get notoriety," James Jorden said. It was a sunny morning, and he was sitting at a cafe near his home in Woodside, Queens, where he lives with his partner, Carl ("Queens is where all the queens are going now," he says).
As an avid reader of his Web site about opera, Parterre Box, which is overseen by his alter ego, La Cieca, an imperious, loud, snarky, attention-grabbing persona named after the blind, wronged mother in the opera La Gioconda, I was half-expecting to meet the extravagantly made-up, bizarrely clothed La Cieca when I came here. Her stunned, draggy, wide-eyed visage is the graphic at the top of Parterre Box, "where opera is king, and you, the readers, are queens"—a motto that she uses to open the site's podcasts, over-enunciating it in a commanding, blue-blooded accent—but Mr. Jorden, while tall and physically imposing and clearly well built, is soft-spoken and reasonable, pausing to think before answering a question. The earnestness with which he said this thing about notoriety came as a surprise.
James Jorden is actually a very earnest guy. He kept his hands neatly folded over one another and his elbows on the table while we spoke. Neither imperious nor loud nor snarky, he was polite and funny. He laughs easily and often, and while he is opinionated and, well, gay—he did mention Karita Mattila's back fat—he is not particularly bitchy. He has a bit of gray hair on his chin, and very little on his head. When he is not being the most widely read and influential opera blogger in the world, he works full time as a legal secretary. He's 54 years old and handsome, and wore a blue T-shirt with a Southeast Asian print in gold. He looked, as he said of Jessye Norman in a 1996 Met production of The Makropulos Case, "very well."
Parterre Box first appeared in 1994.
"I got some advice from a therapist to try to make art, creative work, that didn't involve actual opera direction, which had been my goal and in the back of my mind is always my goal, because it's my favorite thing to do," Mr. Jorden said. "I had been living in the East Village up until about 1990, and then I moved to the Upper West Side but I still sort of continued to hang out in the East Village, and I was seeing—that was, I guess, a little past the peak of punk music zines, fan zines, and I really liked the aesthetic even though I had no idea what it was they were talking about."
Thus appeared Parterre Box: The Queer Opera Zine, which brought together, for the first and only time, the low-rent, mimeographed collages and newspaper cutouts of punk zines and the bizarre, insular, high-society world of opera.
Opera hadn't been a particularly high-society world for James Jorden. He got his start with the art form modestly, costuming a production of Gilbert and Sullivan's H.M.S. Pinafore when he was in a gifted-and-talented program in his teens down in Louisiana; his co-designer was a young Tony Kushner. After his mother grew tired of his Pinafore obsession—he'd play the record constantly—she bought him an RCA recording of Carmen, and that settled it. While at Louisiana State, he hitchhiked to Dallas to hear the Met on tour and saw Renata Scotto in all three roles of Il Trittico, and that settled it even more decisively: "That turned me around. I saw what the possibility was. And I actually choose that date as the birthday of La Cieca."
By the mid-'90s, when La Cieca was, improbably, in her 20s, Mr. Jorden was staying up late in his apartment making copies of Parterre Box—the covers often hot pink—and distributing them.
"The first one I actually tried to distribute by standing outside the Met and handing out leaflets, and that didn't work, especially not for me. It started to rain, people didn't want to see it, they thought I was a homeless person. They weren't getting it. Another zine publisher—because I was starting to look into the zine culture—there was one political zine, I think in Boston, that was publishing their zine by copying the outside of timetables for trains and then on the inside they put their content and put it back with the timetables in the station, so the people would pick up timetables and then they'd get this radical political dissent on the inside. So I thought, 'Well, that certainly seems doable.' So I started, uh, stealing the Met's leaflets and brochures, taking them home, stuffing them with my magazine and putting them back in the racks at the Met. I also, when I would go to a performance at the Met, I would go to all the men's rooms and leave copies of them there. And under the seats, just sort of like Easter eggs, and people would find them.
"Not surprisingly, the Met was not O.K. with this, and there was one time"—this was in 1996, before a performance of Salome starring Catherine Malfitano—"when I was sort of in the process of starting to put more zines in the racks, and a security guard caught me and took away my ticket and wouldn't let me in the theater."
He wrote on Parterre Box that a few homophobic slurs were thrown around.
"I was never banned officially from the Met, but I missed that performance for sure." Typically understated, he says of his relationship to the Met, "It was rocky for a while."
This is the affair that Mr. Jorden said "wasn't my intention to get notoriety" out of, but the drama with the Met dovetailed perfectly with the zine's content in making him infamous. The tone of the zine in those early years was excited, bitchy and hilarious, and translated perfectly to the Web when he moved Parterre Box to the Internet in the late '90s. An indicative excerpt: "Renee Fleming is a MESS. Yes, 'Depuis le jour' is about remembering your first sexual encounter, but it shouldn't sound as if you still have a throatful of cum."
In the voice of La Cieca—"more Vera Charles than Regina Resnik"—he skewered Met productions, aired dirty rumors about its administration and favored singers, and he took other writers to task for doing boosterism in the place of criticism.
Mr. Jorden was an immediate success as a gossip columnist, his secret being that "everyone has an ax to grind, everyone is angry about something. And the other half of people are just so excited to be sharing a story." He has an uncanny ear for winnowing out the truth and falsehood in rumors—"Does this sound like something that would happen?" he can ask himself, and trust the answer—allowing him to be confident about saying, "Let's jump on it and see what happens," as he did when a friend happened to see Gerard Mortier in a meeting at New York City Opera. La Cieca subsequently predicted—when it seemed ridiculous—that Mr. Mortier would be named the company's general manager, and she turned out to be right (for a time).
One of the people to find the Parterre Box "Easter egg" in its early days was Brian Kellow, then managing editor of the monthly magazine Opera News and the writer of a column for the magazine called Notebook, which served as a compendium of little profiles and gossipy nuggets, a mostly anodyne parallel to Parterre Box. After picking up the zine in the 66th Street No. 1 station soon after its creation, Mr. Kellow became a regular reader, even writing a fan letter to Jorden calling Parterre Box "the hippest opera magazine around." Mr. Kellow's own Notebook column was, for Opera News, on the provocative side; "pushing the envelope a bit" is how he remembers it. Opera News is not a very edgy magazine. Published by the Metropolitan Opera Guild, which raises money for the Met and handles its merchandising, it tends more toward soft-focus photos of elegantly coiffed divas than hard-hitting news breaks. Though it is editorially independent of the Met, many of its readers are also Met subscribers and guild members (who get free issues as a perk), and the magazine's tone toward the Met—in reviews, profiles and features—is generous. ("The Bewitching Art of Patricia Brooks" and "The Effervescent Marco Armiliato," about a soprano and a conductor, respectively, are typical headlines.) If it's not Pravda, it's not too far off.
Parterre Box had always included Opera News among the targets of its wit: Mr. Jorden referred to Anne Midgette, then a contributor and currently a Washington Post critic, as "Anne Dwarfette," and parodied the column On the Beat as "Turn the Beat Around," imagining an interview between Mr. Kellow and mezzo-soprano Cecilia Bartoli in a tattoo parlor.
This is why "Voice of the Opposition," an 1,800-word profile of Jorden in the August issue of Opera News (which hits newsstands on July 8) is so shocking. The first feature on a blogger ever to appear in the magazine, it's as if Pravda had sat down with Leon Trotsky. When asked about the article in a telephone interview, Mr. Kellow, its author, who's now Opera News' features editor, laughed. "Ten or twelve years ago I would never have gotten this in," he said. And, in fact, he didn't.
After two uneventful years with Notebook, Mr. Kellow went too far in mid-1996: He wanted to do a mini-profile of James Jorden. By then, Parterre Box was widely read and discussed in the opera world, though Mr. Jorden was of course in the bad graces of the Met after the leaflet-stuffing incident. Mr. Kellow moved ahead with the profile. He even conducted a phone interview with Mr. Jorden, but when he submitted the column, the Jorden section was cut. Around the same time, Mr. Kellow wrote critically of a major Met gala celebrating artistic director James Levine's 25th anniversary with the company, calling it "deadly."
Mr. Kellow's memory of the disagreement is a bit sketchy, but it seems that this combination of topics led to the direct intervention of Joseph Volpe, then general manager of the Met, who decreed that if the column was not put on the spike, Met ticket privileges for Opera News would be revoked. Notebook was canceled in January 1997. Two years later, under a new editorial regime (under which Mr. Kellow was promoted to executive editor), his column was revived as On the Beat, and he's had no problems since, including getting this month's two-page spread on Mr. Jorden into the magazine, 13 years later.
That there's a profile of Mr. Jorden in Opera News says a lot about the magazine—current editor Paul Driscoll doesn't suffer from what Mr. Kellow calls "squeamishness" about some controversy—as well as the hipper, more technophilic and media-friendly environment of the Met under its current general manager, Peter Gelb. It also says a lot about James Jorden and his delicate balancing act as he expands his influence far beyond his zine beginnings.
He has to maintain his subversive reputation and "fresh, undiluted voice," as Mr. Kellow describes it, while ingratiating himself to a major newspaper—Mr. Jorden recently became opera critic for the New York Post—and a wider readership (the site's traffic is up 150 percent from last year, getting 10,000 to 15,000 views a day). In some ways, it's an unsurprising challenge for a writer making the somewhat unusual move from the blogosphere—where overstatement, exaggeration and gossip reign—to "old media," rather than vice versa. Key to the balance is his separation, thus far successful, of "James Jorden," who writes incisive but traditional reviews for the Post and Gay City News, and "La Cieca," who runs the Web site and stays bitchily aware of Natalie Dessay's costuming mistakes even as she breaks more and more "real" news, especially about the travails of New York City Opera, which few journalists are regularly covering and where Mr. Jorden is particularly well sourced.
Mr. Jorden doesn't think that the bifurcation means a compromise of either voice. Quite the opposite. "Right now, I have to be two people," he said. "That gives La Cieca more freedom to make dick jokes."
The site remains his central endeavor, and a redesign is launching later this week, as the Opera News profile comes out. The new design emphasizes the punk aesthetic of its zine origins while better facilitating content-sharing and chatting among its active, often vociferous commenters, Mr. Jorden said.
He has always tried to stay ahead of the technological curve—his podcasts, started on a whim, have become one of the great resources on the Internet for live opera recordings—and his success in doing so has effectively made other opera blogs irrelevant. Nick Scholl, whose site Trrrill had a youthful, hipsterish perspective on opera (Mr. Scholl is 30, a generation younger than Jorden), has stopped blogging about opera entirely, saying that Jorden "was doing it better." Far from being frustrated, he's handling the Parterre Box redesign.
While Parterre Box is still prickly, its snarky, cutting—read: "gay"—tone has been so completely incorporated, via Gawker and its spawn, into mainstream blogspeak that it just doesn't sound that nasty anymore. In fact, the love of opera and divas and all that wonderful silliness that animates the site—as Susan Sontag wrote, "Camp is generous. It wants to enjoy. It only seems like malice, cynicism"—comes through even more now than it did in 1994. Its motto then was "Parterre Box is about remembering when opera was queer and dangerous and exciting and making it that way again." Mr. Jorden said, earnestly, "That part of the quest has failed."
But in the space marked out by Parterre Box, opera as a form is neither dead nor dying, but the center of the universe.
The original title of the Opera News profile was "Notes From the Underground." As Brian Kellow said, "That might have worked 10 years ago."
editorial@observer.com