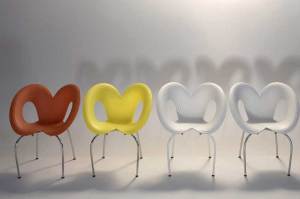 In the early 1980s, Ron Arad was just a few years out of architecture school when he opened his first studio in London.
It wasn't much—an old potato warehouse where he made bed frames, tables and chairs out of items he salvaged from junkyards. The gritty-chic look was enough to keep shoppers interested, but it was Jean Paul Gaultier, the designer, who ignited Mr. Arad's career.
Mr. Gaultier bought a pair of the now iconic "Rover Chairs," designed in 1981, and made from a junked car seat to the sides of which Mr. Arad had attached arched rails; soon customers were mobbing the shop.
Within a few years, the very correct furniture makers Vitra were commissioning Mr. Arad for pieces that ranged from a plush club chair made with strips of springy steel sheets ("Well Tempered Chair," 1986) to "Sit!" from 1990, which looks like a kidney and works like a rocking chair.
Today, artists treat Mr. Arad like a celebrity, which he is; lesser folk are unlikely to recognize either the name or the work. A big part of the problem is that old divide between art and design, which the Museum of Modern Art has long sought to bridge, today with "Ron Arad: No Discipline," the artist's first solo exhibit in the United States. But is he cooperating?
A few days before the exhibit, opening on Aug. 2, Mr. Arad spoke to reporters about his work at a press preview. He wore pajama pants, a black T-shirt and Crocs.
"The art world is very concerned that I do stuff that is mass-produced, and the design world is upset if I do stuff that ends up on museum floors. And the architects," he said, "they don't like anything."
That gets to the heart of design's ambiguous place in the arts. Design is all about how it can be used. It's not about design's place in the arts or architecture, but its function for clients there. It's not about him, it's about you.
Paolo Antonelli, the curator of the exhibit and head of MoMA's Department of Architecture and Design, writes in the catalog that modern artists sought "unity among the arts and interdisciplinary liberal studies." Weimar Germany's Bauhaus movement is an example. What hung on the walls was just as important as what people sat in; and what people sat in was just as important as the shape of the room for those seats. Furniture design, architecture and painting, in other words, were equally valued, or else mutually implied.
Laszlo Moholy-Nagy, Josef Albers and Gropius, fleeing the Nazis, brought that idea with them to the United States, where they helped to found Black Mountain College in North Carolina. This was where dance god Merce Cunningham, who died this week, first collaborated with the musician John Cage; where Willem de Kooning painted and Buckminster Fuller sketched his blueprints.
But the interdisciplinary focus changed after the Second World War, when the new technologies left over from war industries were converted for civilian use. The arts began to splinter, and furniture designers were either run out of business or hired by large-scale manufacturers that wanted cheap, functional furniture. In many artists' eyes, designers became the pawns of businessmen.
That is more or less the world that Mr. Arad inherited. Though born in Israel in 1951, he left the country when he was 22, after a year at the prestigious Bezalel Academy of Arts and Design in Jerusalem.
"I never really left," Mr. Arad told the reporters and critics who had gathered for the opening. He applied to London's Architecture Association on a whim, he said, and he didn't even like it.
"It felt more like an art school, not an architecture school," he said.
When he was asked why he wanted to be an architect, he responded, "I don't want to be an architect; my mother wants me to be an architect."
When they asked to see his portfolio, he said, "I don't have one, but I have a pencil here. What do you want me to do?"
It's all very neatly done: the show's title, "No Discipline," packages an artist with no apparent respect for the social discipline that attaches to his field. Mr. Arad's work can't be defined as either sculpture, architecture or design, though he has had successes in each medium, and has not feared to work for money. He has designed a revolving restaurant atop a ski resort in Gstaad, after all.
"You see," Mr. Arad said, "I'm a very good ping-pong player, so am I also not a good designer? I'm not going to refrain from doing something because people might pigeonhole me. No one every forced me to do anything."
Most of the 140 chairs, architectural models and vases on view are nestled in a structure created for the exhibit. Called "Cage sans Frontieres," it's a hard-to-define, gigantic figure eight that takes up the entire room. His much-adored "Big Easy" chairs, first designed in 1988, have enormous side arms that might pass well above a sitters' head. Nice, you might say, but not necessarily useful. And the same goes for newer versions like the limited edition "New Orleans" chair, designed in 1999, and made with eye-popping colored gelcoats that are poured into a polyester mold.
Mr. Arad's longtime assistant, Caroline Thorman, who joined his first shop in London in 1983, was also at the preview. And when she was asked if some of the chairs were comfortable (placards throughout the room say: "Please don't touch"), she said yes.
"It's an allusion," she said, pointing to the all-steel "Well Tempered Chair." "They're actually very comfortable."
"Bouncy," she added.
Still, she noted that plenty of Mr. Arad's designs in recent years have been meant purely for viewing. Moreover, despite his stature, high-end manufacturers like Vitra and Kartell have not always proved willing. In 2000, Mr. Arad designed an ultra-thin folding chair that he sent to Vitra and Kartell, but they rejected it, saying it was too costly to build.
"These companies thought it would be very cheap to build, but it was quite expensive," Ms. Thorman said. But: "That was an exception; most things [he designs] get produced."
And he still makes affordable chairs people can buy—the "Tom Vac" (1999), made by Vitra, retails for $375—and, for years, he has been a revered teacher at the Royal Academy of Art in London. He was famous, probably even feared, for his demanding teaching style. For two years, tutors would lead students in a "platform," or an interdisciplinary module designed from scratch by each individual teacher. Students had to build structures—furniture, buildings, sculpture, graphics, whatever—then defend their designs against the constant criticism of their peers. There, his cavalier attitude and "ping-ponging" is less in evidence: It was he who compressed the separate Furniture and Industrial Design departments into one. From 1997 through this spring, when he left the school, he served the combined department as dean; it's now called Design Products.
The point was that ideas must drive the design and function of a work, and nothing else. If students were worried about money, "trying to survive in super-expensive London while doing only good work that makes sense to you," one student recalled, Mr. Arad had a stock phrase to calm them. "If you don't care about the money," Mr. Arad would say, "the money gets jealous."
editorial@observer.com