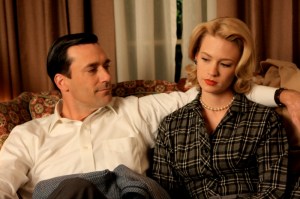 The Emmy nominations: Same as they ever were. Despite rule changes that, in theory, allowed for the more "popular" series' to hopefully gain nominations, it was once again the underdogs and cable that ruled the roost. Tina Fey's 30 Rock led the field with 22 nominations, including the Comedy Trifecta of Series, Actress (Ms. Fey) and Actor (Alec Baldwin). Not surprisingly, Mad Men paced the drama field with 16 nominations of its own, including a chance to defend its Best Drama Series win from last year. Of the 14 series nominated in the Comedy and Drama categories, only six are on regular television. Remember all the talk about making things more accessible for viewers? Maybe next year! You can view the full nominations here; in the meantime here are some snap judgments.
Betty Draper Gets No Love!
With all due respect to Elisabeth Moss, how does she get the Best Actress nomination from Mad Men and not January Jones? Forget for a moment that Ms. Moss had infinitely less screen time than Don Draper's rebelling wife during season two, but was there a more committed and thrilling performance from an actress this year than what Ms. Jones was able to do with Betty? The way she turned her childlike naïveté into adolescence unhinged was the stuff that got Edie Falco a boatload of nominations on The Sopranos. Guess Mrs. Draper will have to wait until next year for the Emmys realize she's actually outstanding.
Room for Flight of the Conchords, but not Chuck?
We would be lying if we called ourselves fans of Flight of the Conchords, but we're pretty sure even the show's most ardent supporters would call the second season a wild disappointment. So what is the reward? A Best Comedy Series nomination, of course! The only thing more bizarre than this development is that Jermaine Clement received a Best Actor nomination. Somewhere, Bret is crying in his cereal.
No Jeremy Piven!
For the first time in three years, Jeremy Piven won't be winning the Emmy for Best Supporting Actor in a Comedy Series! In one of the biggest upsets of the day, Mr. Piven was left out in favor of Neil Patrick Harris, Jon Cryer, Rainn Wilson, Tracy Morgan and, most excitingly, Jack McBrayer. Huzzah! As an added bonus: This seems to clear the way for Mr. Harris to get that Emmy he so richly deserves.
Monk is still on the air!
If it's the Emmy Awards, you know Tony Shalhoub must be nominated. And, look, he is!