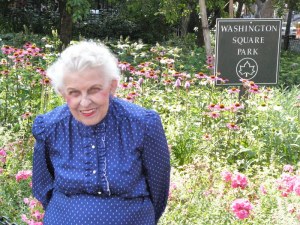 The way Doris Diether tells it, she was the last holdout in her Waverly Place building a few years back, when the landlord moved in someone new to intimidate her.
"Every time he'd go by me, he growled. Then one night he banged on my door and said, 'If you think you're getting any money, forget it,'" recalled Ms. Diether, 80, who moved into her basement apartment in 1958 and, thanks to rent control, still pays virtually the same rent she did when Robert Wagner was mayor.
"I started laughing, it was so ridiculous. I don't think that's the reaction he wanted," she said with a sly smile.
Ms. Diether's laugh is a rolling chortle that punctuates nearly every story she tells, and illustrates the kind of airy joie de vivre she has brought to the mundane, often-bitter battlefield that is local land use.
For the last half-century, Ms. Diether has been a kind, but constant, thorn in the side of landlords and developers–ever since she joined Save the Village as chair of the tenants committee in 1959, agitating alongside such luminaries as Ruth Wittenberg and Jane Jacobs. She was appointed to Community Board 2 in 1964—"to keep me quiet," she suspects—and she remains Manhattan's longest-serving community board member.
Over a noon breakfast at the Waverly Restaurant in late June, Ms. Diether picked through a packet of her own press clippings. She drained three cups of coffee, and she laughed about five decades of fights—won and lost—against a litany of landlords (hers and others), countless community board members, and urban planners from Robert Moses to current City Planning Commissioner Amanda Burden, who Ms. Diether hopes will come around to her current crusade: downzoning the Bowery's east side. (Ms. Diether has already drafted the zoning proposal and hopes to submit it to Ms. Burden this month.)
"Oh, she knows me well," Ms. Diether said with an impish grin. "I even sent her a birthday card." At that, she threw her head back and laughed.
"I NEVER QUITE UNDERSTOOD why other people are so afraid of fighting, but maybe that's because of my grandmother," Ms. Diether said.
After her grandmother immigrated to the United States from Finland—dodging a husband whom she didn't like—an American customs officer asked whether she was, or ever had been, a Communist. Ms. Diether's grandmother, who had survived the Soviet invasion of her home country, promptly hit the man.
She changed her name and raised three daughters in Massachusetts, one of whom eventually settled in Queens with Ms. Diether's father, a cabinet maker and Mayflower descendant. The family moved to Massachusetts when Ms. Diether was in her early 20s, but she couldn't be reconciled to small-town life. "If you went out with a guy more than three times, you were obviously getting engaged. And if you came home after 2 in the morning, everybody said, 'Oh, you came home late last night.'"
That was too much prying for a woman who still dresses up to go out, still puts on red lipstick, and still confesses to being a "party girl."
"Oh, man! She likes to party!" said Sean Sweeney, Ms. Diether's co-chair on CB2's landmarks committee and himself a bit of a land-use legend. "I like to party and get drunk, but Doris will out-party me. For 80 years old, she can out-party kids who are 30."
So it was only fitting that when she moved back to New York from Massachusetts in her mid-20s, Ms. Diether moved into the Hotel Albert, a famed Village flophouse on the corner of University Place and 11th Street, where her staid father once came to visit.
"He asked for my room number and the guy gave him my room number without even asking who he was, and he got to the elevator and he was propositioned by one of the women in front of the elevator to do it for a bottle of liquor," Ms. Diether said. "And then he got in the elevator and there were two gay guys in the elevator making out, and this was at 6:30 or 7 o'clock in the morning."