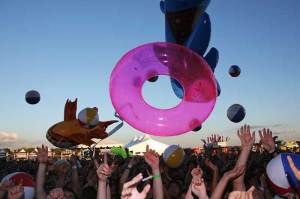 Paul Tollett, the man behind the giant, weekend-long music showcase festival All Points West, which is taking over Liberty State Park in Jersey City this coming weekend, has learned a bit about holding giant, weekend-long music showcase festivals in New York, and what can go wrong.
"We felt there were a lot of things we didn't like about last year," he told The New York Observer in an interview this week. "I walked around as a fan and stood in those lines, and when you go stand in that line, you get mad, and even if it's me. I don't want to wait. Who would want to have to go through that?"
Last year, he had 27,000 people "going through that" on Friday, 30,000 on the headlining day, Saturday, and 22,000 on Sunday. From the noise coming off the Internet, it might have been a million.
Last year, the fest's debut featured two nights headlined by Radiohead and many other impressive bands, but also endless lines for food, pain-in-the-ass ferry and parking problems and what lots of people thought were draconian restrictions on beer drinkers (small, prisonlike drinking pen, five-beer maximum). "All Points Worst" was the festival's most prominent epitaph on the Web.
Some sample threads on the festival's official message board in the year since have read like a summer-camp burn-book: "Sneaking In," "The Stages Should Face The Opposite Direction,"
"How dumb is this 'green' deal?" "All Points West Sux" and, of course, "Paul Tollett is a D-bag."
Mr. Tollett might have been the main candidate to get it right: He's the mastermind behind California's Coachella Festival, after all. He oversees Goldenvoice, which produces some 300 shows a year, and along with AEG Live puts on APW, Coachella, Stagecoach, the New Orleans Jazz and Heritage Festival and Seattle's Bumbershoot festival, among others. But with local grumps—that is to say, New Yorkers—he's found that keeping an ear to the message boards is all-important.
"We read the message boards and the emails, and people complain or give advice," he said. "Some of it is very negative. You can do everything right and there's still 12 people for whom it's the worst thing they've ever seen, but you watch and you can see what makes sense. Enough people have a problem and it might be a real problem."
Mr. Tollett expects similar attendance numbers this year, but he says he's ready for them.
"The first year of Coachella, we didn't have any lines, but that's only because we didn't sell any tickets!"
In place of last year's third stage (which produced more noise interference and confusing schedules) is a tent where comedians (among them Tim & Eric, Janeane Garofalo and Eugene Mirman), DJs, electronic acts and smaller bands will perform. The Renegade Craft Fair is also along for the ride.
The pain-in-the-ass trip should be relieved somewhat by public transit discounts. But the biggest test will be at the beer garden, which is going to be larger, with shorter waits, a shady location and views of the stages.
Of course, this is New York, and major bands come through all the time. It's the specific location—"within sight of the Statue of Liberty and ground zero"—that provides its greatest attraction and also its greatest drawbacks: drinking restrictions on federal property, the security considerations that go along with holding the event at a prominent national site. Overnight camping? Forget it.
So you've got to put together one hell of a lineup.
Headliners this year include Tool, Coldplay and Jay-Z (a last-minute replacement for the Beastie Boys), and other performers include Echo & the Bunnymen, My Bloody Valentine, MSTRKRFT, the Black Keys, Fleet Foxes, Neko Case and more than 65 other artists.
What's new this time around is a bit of pandering to New Yorkers, trying to brand the fest with local flavor peppered into each day, "with the Beastie Boys—and now Jay-Z is in there—and
Yeah Yeah Yeahs, Vampire Weekend, MGMT and all those bands. It's very friendly to the area," Mr. Tollett said.


The Economics of Eclecticism
But there are other reasons the list swerves from contemporary hip-hop to British New Wave and shoegazing acts of the 1980s and 1990s, from jock-fave balladeers like Coldplay to nightclub punkers like Yeah Yeah Yeahs.
For a time, it was hard to get bands to play a festival in the U.S. Mr. Tollett started Coachella in 1999, two years after Lollapalooza had crashed and burned and the same year Woodstock traded the last of its peace-and-love legacy for fire, violence and rape. It wasn't a great year for festivals, and Coachella lost $800,000.
The following year ran at a loss as well, but somehow Mr. Tollett managed to turn things around, and Coachella has been one of the country's biggest and best-loved festivals ever since, in part because of attention to lineups as well as lines. As the '00s progressed, bands started warming again to the idea (and the large payoffs) of playing festivals.
"What's good about a festival is you can play it off-cycle," Mr. Tollett said. "Touring and headlining across the country sometimes is difficult if you don't have product. This way you can pop in, there's somewhat of a built-in crowd, and you can do your thing, but it's not as much on your shoulders. You're playing for a lot of people who would never have paid to see you. That crowd of 50,000 people wouldn't pay the couple hundred dollars to go see Paul McCartney or Roger Waters at Staples Center or whatever, but while they're at Coachella, they figure, 'I'll listen to a few Beatles songs!'"