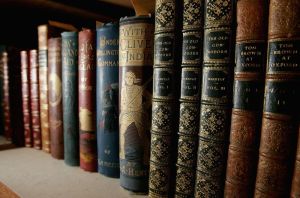 Summer is always a pretty slow time in publishing, but there are at least a few interesting or curious book deals announced each week. We thought it'd be nice to gather and contextualize them in one place. So here they are for the week ending July 31.
—On Monday, Simon & Schuster publisher David Rosenthal acquired New York Review of Books critic Daniel Mendelsohn's new book at auction, for a sum in the high six figures. The deal marked Mr. Mendelsohn's defection from HarperCollins, which published his immensely successful memoir The Lost in 2006 and a collection of his essays this past spring. The new book is about Greek literature, and was described in the lofty proposal submitted by his agent, Lydia Wills of Paradigm, as a "reflection on the odd and characteristically Greek confluence of beauty and pain." Mr. Mendelsohn's editor at HarperCollins, Tim Duggan, evidently didn't think that idea deserved as big an advance as author and agent were looking for, and when he made his offer, they balked and submitted the book to other houses. It was the right move, and Mr. Mendelsohn is a richer man for it. Now it just remains to be seen whether Mr. Rosenthal can make a hit out of a book on Greek literature. Find out in 2012!
—Monday also saw an announcement from Houghton Mifflin Harcourt about a new novel from their longtime author, the Nobel Prize winner Jose Saramago. The book, titled The Elephant's Journey, has been out since last year in Portuguese, but so far there has not been an English translation. That Houghton Mifflin Harcourt was able to hold onto Saramago is a victory for the house, which in the last year has lost several marquee authors, including Jonathan Safran Foer, who moved to Little, Brown; Audrey Niffenegger, who moved to Scribner; and most recently, Life of Pi author Yann Martel, who moved to Spiegel & Grau. The house chalked up another such victory on Thursday when the children's division announced that Daniel Pinkwater has re-upped with them for his next novel.
—On Wednesday, The Observer reported Knopf's acquisition of Middle East historian David Fromkin's sequel to his celebrated 1989 best seller A Peace to End All Peace. The deal marks a homecoming for Mr. Fromkin, who published with Knopf for years before his agent, Suzanne Gluck of William Morris, moved him to Ann Godoff at Penguin Press for his last book. Which is not to say that "coming home" was the author's top priority—Ms. Gluck put the book up for auction and Knopf prevailed over three other houses for the simple reason that they offered the most money. The editor Mr. Fromkin worked with during his first round at Knopf, Ash Green, has retired, and so for this next book the author edited by the young rising star Andrew Miller. This in itself is kind of poetic, because Mr. Miller was hired by Knopf chairman Sonny Mehta just as Mr. Green was preparing to leave the company in 2007, and in the two years since has taken over a number of the veteran editor's former authors.
—On Thursday, Zack Wagman at Vintage acquired GQ writer Alex Pappademas's collection of "essays and insights into how comics, superheroes, science fiction, and other 'nerdy' entertainment has become a dominant force in pop culture. " Which made us wonder: is Mr. Pappademas seeking to unseat American Nerd author Ben Nugent as the nation's foremost expert on nerd history? Kinda looks like it!
—Also on Thursday, Pam Dorman preempted a novel called The Age of Ardor, by an advertising executive named Jennie Fields, based on the life of Edith Wharton. It is the fifth acquisition Ms. Dorman has announced since starting her eponymous imprint at Viking. According to the deal memo posted to Publishers Marketplace, the book focuses on Wharton's friendship with Anna Bahlmann, "her former governess turned literary secretary." The description calls to mind another literary-themed historical novel that was sold recently: Paula McLain's The Great Good Place, which is told from the perspective of Ernest Hemingway's first wife. That book was acquired for more than half a million dollars back in June by Random House editor Susanna Porter, who carved out a reputation for publishing this type of historical fiction with Nancy Horan's surprise best seller about Frank Lloyd Wright, Loving Frank. One wonders whether Ms. Porter would have gone after the Edith Wharton book if the agent who repped it, ICM's Lisa Bankoff, had taken it to auction instead of selling it to Ms. Dorman—who made huge hits out of Bridget Jones's Diary, The Memory Keeper's Daughter, The Secret Life of Bees, and The Deep End of the Ocean—in a preempt.
So there you have it, folks: the week in book deals! Obviously some were omitted, and it should be noted that, for our purposes, a deal happens when it has been reported somewhere (including in The Observer!) or announced in the form of a press release or a deal memo on the Publishers Marketplace database. This is a flawed system, of course, since deals don't all become public right away, but what're you gonna do.