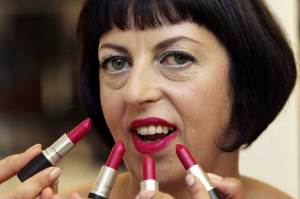 A biography of Isabella Blow, the magazine editor who wore extravagant hats to prevent fashion folk from attacking her with air-kisses; who is often credited with discovering designers Alexander McQueen and Philip Treacy; and who after several suicide attempts finally succeeded in tragically ending her life in 2007, was acquired by Carrie Kania at Harper Perennial's It Books last week.
Blow by Blow: The Story of Isabella Blow will be written by Mss. Blow's husband, Detmar Blow, and British author Tom Sykes (brother of Plum.)
There is also another biography of Ms. Blow, one that Karyn Marcus, an editor at Thomas Dunne Books (an imprint of St. Martin's Press), commissioned from fashion writer Lauren Goldstein Crowe in September of last year. "We wanted someone to do the definitive bio of Isabella Blow—a really fun, juicy look at this personality within the fashion industry," Ms. Marcus told the Transom.
Ms. Crowe's book is due out in December of 2010; Messrs. Blow and Sykes' biography, though just purchased, is tentatively slated for publication in spring of 2010. (Neither editor would comment on advance amounts.)
"We'll publish it when it's ready," said Ms. Kania, denying that Mr. Blow's work is being hustled to compete with Ms. Crowe's book. "We're not rushing it. … When you have such a life as Isabella did, there is room in the market for many books."
When asked whether she thought Harper Perennial is strategically speeding up publication, Ms. Marcus, Ms. Crowe's editor, said, "I don't think there's any reason for it because the books are very different. "
Mr. Sykes, who was introduced to Isabella Blow when his sister Plum was her assistant at Vogue, and later visited the editor's Hilles House in Gloucester—where Isabella and Detmar lived and hosted extravagant social evenings—told the Transom that he will be interviewing Blow's friends and colleagues here and in England, including American Vogue's Anna Wintour (Blow began as her assistant), Hamish Bowles and Andre Leon Talley.
Mr. Sykes first met Blow when he was 20 years old. She told him that he would be the world's first male supermodel.
"'Oh, dahling, you are going to be absolutely fabulous and you're going to rewrite the whole rule book. I'm going to arrange you to meet Mario [Testino],'" Mr. Sykes recalled her saying. "The next thing I knew, we were in the car on the way to a hotel in London to meet Mario. We stopped on the way to pick up Issie's other latest discovery."
The girl who got into the car was a then-unknown model, Sophie Dahl. "Mario decided that yes, Isabella was quite correct, and promptly photographed me for a story in Italian Vogue," said Mr. Sykes. "But that's as far as my supermodel career went."
Mr. Sykes is not worried about the competing biography. (Ms. Crowe could not be reached for comment.)
"I don't know Lauren and I haven't spoken to her. I'm sure she'll do a brilliant job," he said. "But from a professional point of view, I would certainly hope that I have the edge in that I'm collaborating with Issie's husband of 14 years."