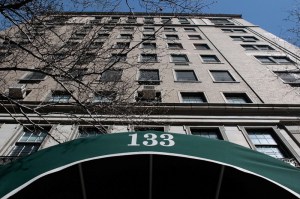 When brokers from the most posh Manhattan brokerages filed into a penthouse at 133 East 64th Street for a secret meeting earlier this month, the fact that the place had been seized two weeks earlier by U.S. marshals from contemporary America's greatest financial villain was not the only thing on their minds.
What must have really bothered the brokers, this small batch in the running to have the odd honor of listing Bernie Madoff's two-floor apartment between Park and Lexington avenues, is that they were all corralled together. "It was a strange and, frankly, slightly insulting way to handle it," one broker there said. "Everyone in that room has pitched pretty important exclusives. I've never had to go on a cattle call before."
Last year, when agents auditioned to list the late Brooke Astor's Park Avenue duplex, they were interviewed separately in her famously lacquered library. It went relatively smoothly—even though they had to smile and nod while sitting in front of her scandal-stained son, Anthony Marshall, plus bankers from the firm that became Astor's court-appointed guardians.
The broker meeting for the Madoff penthouse, which has been rumored to be going on the market since January, was stranger. "Everybody kind of wandered around the apartment, and they herded us into the living room," another broker said. "I just don't see how they can make an evaluation on who to use."
There are a lot of options. According to three sources, brokers that have been contacted include Corcoran's Sharon Baum (famous for her SOLD 1 license plate and its matching diamond brooch); John B. Glass and Caroline E.Y. Guthrie from the blue-blooded Edward Lee Cave division at Brown Harris Stevens; Stribling's Alexa Lambert, who has handled sales at the Plaza; Sotheby's top broker, Serena Boardman, and vice president Anne Corey; and Elliman's Daniela Kunen and Sabrina Saltiel, who are listing the incarcerated Phillip Bennett's Park Avenue duplex penthouse, plus a lesser-known colleague, Whitney Gettinger.
They came armed! Ms. Baum had Corcoran CEO Pamela Liebman with her; Ms. Lambert had her firm's founder, Elizabeth Stribling; and Elliman CEO Dottie Herman was there along with the head of the firm's Manhattan brokerage, Steven James. John Burger, the Brown Harris broker who told The Times this month that he'd offered to forgo a commission, was not there.
As it turned out, the meeting with the federal marshals was more of a group info session than an audition. "What they said was, 'I wish we could give it to all of you,'" Mr. James explained. "'Look and see what the product is; advise us on what we should do; here's the deadline for the proposal, and may the best person win.'"
By the end of last week, brokers sent in their proposals for how they would market the place, how much they would list it for (their pitch can't be too discouragingly low nor too misleadingly high) and what kind of commission they'd demand (which, as Mr. Burger's offer showed, will probably be modest).
One of the agents there guessed that the penthouse is worth $8 million, but will sell for less because of its ignominy—and its condition, which, despite Mr. Madoff's reputation for punctiliousness, is imperfect. "So not triple-mint," an agent said. "That to me was incredibly surprising."
"I thought it was eerie," another said. "The place was left as if someone got out in the middle of the night. All the clothes were there, there was a note, there was a cup of coffee on, I think, his desk. The only that was gone were the photos: the picture frames had no pictures."
mabelson@observer.com