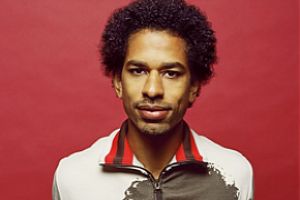 Rolling Stone contributing editor, TV personality and compulsive Twitter-er Touré has signed a deal with Free Press to write a book about "post-blackness." The book, titled Who's Afraid of Post-Blackness, was described in a deal memo posted on Publishers Lunch as a "treatise" on black identity in the age of Obama, based on interviews with dozens of "black American artists, writers and thinkers."
Touré in an email said the book would be a "non-fiction narrative in the neighborhood of 300 pages interspersing my ideas and those of all the thinkers discoursing on major issues impinging on the future of blackness." He declined to name any of his subjects, saying only that they'd be "some of the most brilliant black people in America… some of them famous, some not."
"I'll sit and talk to them in a deep way, the way that black people talk when whites aren't around," Touré said.
Asked to explain the concept behind the book, he said: "Post-blackness is about getting beyond the rigid, myopic vision of what is and is not black. Blacks are creative in our cultural productions and personal style but frown on being innovative and improvisational with the definition of blackness itself. So any number of small of offenses will have some blacks saying he/she ain't black. This is absurd. We have to broaden our conception of what blackness is."
He went on: "I think that the term post-black is a bit scary to many black people. They get unsettled as soon as it enters the conversation. It's as if the word suggests their future is racelessness and thus a loss of so much and a sort of spiritual homelessness."
It is Touré's first book for Free Press but his fourth overall. He published a collection of stories with Little, Brown in 2002; his novel Soul City was published by Picador in 2005; and a collection of his journalism followed a year later. His editor at Free Press will be former GQ editor Martin Beiser who joined the Simon & Schuster imprint in 2003.
The deal for Post-Blackness was brokered late last week by the independent agent Sarah Lazin, who also recently sold a book on Michael Jackson by Nelson George, who, according to Wikipedia, was the best man at Touré's wedding.