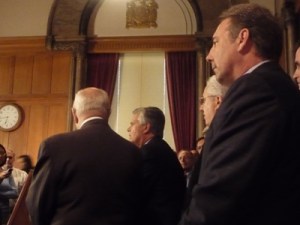 ALBANY—And that's it for Tuesday!
There was no legislative action and no surprise bipartisan deal—just the familiar bickering between the two parties vying for control of the State Senate, whose only efficiency seems to be dispensing with the extraordinary sessions called by David Paterson.
Last night they did so in less than four minutes, with senators from both parties appearing on the floor at the same time to gavel in and out, pursuant to a court order.
The one thing gained on Tuesday was something new to argue about: the validity of a session in which Democrats claimed they had 32 votes because Republican Frank Padavan walked across the chamber floor. Republicans called this a "disgraceful" "charade." Padavan has said he did not intend to be marked present.
"In my opinion that is probably the most fraudulent, obnoxious, arrogant display of partisanship and quite frankly a total disregard for the institution of the Senate," Senator Dean Skelos, the Republican leader, said at a press conference. (Democrats say the session was "legal.")
Despite pleas and pressure from Paterson, Michael Bloomberg, business interests, labor groups and other city officials, no action was taken to renew legislation giving the mayor control of New York City's schools. Skelos called this, and the failure of a measure that would raise the sales tax in New York City, a "slap at Mayor Bloomberg."
"Joel Klein does not have to bring back the board of education, school boards, and start setting up offices for 62 superintendents," Senator Jeff Klein, a Bronx Democrat, said. "I think we do have the time, and I am hopeful, personally, as a senator, that we do finish and pick up mayoral control because I think it works."
Republicans have said they want to have public negotiations over a power-sharing agreement at 10 a.m. Wednesday. Democrats have not committed to showing up.
David Paterson will call another extraordinary session at 3 p.m.