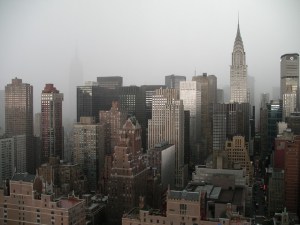 As a thunderstorm raged outside, the mood of dozens of real estate investors at Wednesday's Distressed Investing Leaders Forum at One World Financial Center was that of general gloom.
"The most optimistic thing I heard today is we won't be like Japan. It won't be 20 years," said Jan Jekielek, the Epoch Times' director of human resources. "What the Fed did now, it took [the Japanese] six to seven years to do."
In one panel, Mr. Jekielek recalled, people asked whether China can pull the world out of the recession. Panelist Joel Holsinger, managing director of Fortress Investment Group, said that since China is now undergoing their own Industrial Revolution, it is going to take them another 15 to 20 years to move from a manufacturing economy to a consumer-based economy.
The conclusion? "They're not going to pull anyone up," Mr. Jekielek said.
Forum organizer Edgar Perez said that same panel gave a dire forecast for the American economy: It would either enter deflation or hyper-inflation. There would be no middle ground.
"The mood in all the panels was that this recession is going to take a bit longer than expected," he said. "In general, I would say it was a negative mood."
Investors at the day-long event generally agreed that the American economy is going to take several years to recover.
Congress Investor Group's owner, Alvin Puentevella, said that the recovery will take another five years, and largely depend on the upper class' level of sacrifice. "The people with the wealth—it's really up to them to bring the money back down and take the hit. You have to keep putting money into the fire," he said.
Terrace Capital's managing director, John Dragone, said that this summer, he has been making about two commercial real estate deals a month—as opposed to an average of five to 10 deals per month before the market crashed.
In the end, said EvestMAC's managing director, Elonna Ashurova, the ones who dragged the economy down are the ones who will have to bring it back up again—and she was not referring to rich people.
"Residential [real estate] is going to start the recovery because it started the downturn," said Ms. Ashurova, who herself specializes in residential real estate. "I think in a couple of years it's going to be fine—once the credit crunch is finally over and people have access to finances to get money."
Though she said that the economy is "still reaching to the bottom," she maintained a more firmly optimistic outlook than most. "There is no bad product. There is always a bad price," she said. "There is always opportunity."
Mr. Puentevella voiced similar cautious optimism.
"I see a lot of excitement for the green economy and a lot of excited people buying distressed stuff. It's an interesting parallel," Mr. Puentevella said. "It's like the maggot effect—how maggots eat through the sores and fix it."
bkavoussi@observer.com