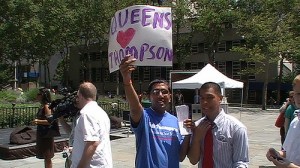 State Senators convened at City Hall today to "urge the major to negotiations" with the Senate on mayoral control of schools.
Michel Bloomberg is encouraging David Paterson to sic the police on the state legislature.
Danny Hakim explains just how broken the newly put-together legislature is. 
Democrats in Albany took about 90 percent of the member-item money.
The Daily News strongly agrees with David Paterson that there should be no subsidies for private office towers at the W.T.C.
A dozen legislators are still under investigation over slush-fund money.
Howard Dean endorsed Kirsten Gillibrand. Swoon, says ladkiddo. 
And Harry Reid! 
June O'Neill, chair of the state Democratic Party, will be replaced by Nassau County Democratic Chair Jay Jacobs.
The Republican candidate for Bill de Blasio's City Council seat says an operative is holding his signatures hostage. 
Michael Goodwin says a Cold War has begun between Hillary Clinton and Barack Obama.
Just when you thought Albany couldn't get any more interesting.
Radioactive material may or may not be leaking into the ground in upstate New York.