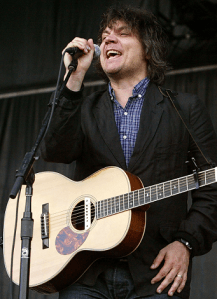 "Everybody okay? Everybody situated? Got your programs? No? I'm sorry! You guys really look good. I'd always wondered what that meant," Jeff Tweedy told swooning fans on Monday night, halfway through Wilco's shiny Coney Island show. "Very, very attractive audience—you should feel good about yourselves!"
It's not that Mr. Tweedy has only become more stable since ending one of alt-rock's best-documented drug addictions. He's a better front man. At KeySpan Park, his songs started sweet and grew from there—a Ray Charles keyboard bulged in "Hate It Here," a lap steel guitar whirred in "Walken," and an early-'70s Hi Records organ yowled in "Jesus, Etc." It was big, oceanic music.
On the downside, middle-aged Mr. Tweedy has been writing songs that have a weakness for breezy comfiness: 2007's Sky Blue Sky even features a song about household chores. But on Monday, the band swelled and swirled, so that parts of "You Are My Face" had the sweet buoyant bounce of South African pop, but other sections shook like Springsteen.
It was weird to hear three perky songs from the band's gleaming, googly-eyed 1999 pop extravaganza Summerteeth, which was co-written by ex-band member Jay Bennett, who died in May of an accidental painkiller overdose. He had been suffering from health problems, had written publicly about under-insurance, and had sued Mr. Tweedy over royalties. Wilco hasn't had the same barroom drawl or ecstatic lavishness without Mr. Bennett, but the music's much more comfortable.
There wasn't a lot of comfort during Yo La Tengo's opening set. The trio makes the country's most delectable and expansive indie rock, but on Monday they started annoyingly loud and stayed there. The set was fuzzy, muddy and shrill, and by its end there were 16 people near the stage plugging their ears, and one man with a hand to his forehead. But when Yo La Tengo came back on the stage at the end of the night to join in on Wilco's wild-eyed, long and loopy "Spiders (Kidsmoke)," the music had ferocious sparkle.
"I'll tell you something," Mr. Tweedy said afterward, giving a calisthenics and hand-clapping lesson to the audience. "You're going to feel this tomorrow, right here, and it will feel good. Thank you so much. It's really going to start to burn. But don't stop. Do not stop."