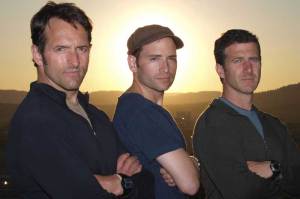 Not long ago, the accomplished war correspondents Damien and Diana Cave were watching TV in their apartment in Miami, where Mr. Cave is now the bureau chief for The New York Times, when they saw a trailer for a new summer show on NBC.
The promo crackled with action. A man in military clothing stormed a beach. Helicopters flew here and there. Men brandished guns. Tires screeched. Things exploded. The cast, three tough-looking guys in sunglasses ("Scott, Navy Seal; Roger, Green Beret; Adam, Journalist"), warned of international terrorists living among us. "This is not just a show to me," said the former Green Beret. "It's a mission." Over the soulful notes of a wailing-guitar, the NBC logo popped up alongside a punchy catchphrase: "Truth is the real weapon."
The Caves looked at each other in befuddlement. What was that? Journalism? Fiction? CSI—The Hague? As it turns out, they were watching the promo for a new show from NBC News called The Wanted, which will debut on Monday, July 20, at 10 p.m. On the hour-long program, NBC's ensemble team of paramilitary journalists will track down and expose accused war criminals and terrorists who have managed to avoid justice, yet are living in the open. The target of an early episode, for example, will be Mamoum Darkazanli, a Syrian national who lives in Germany and is wanted by Interpol for, among other things, his alleged involvement with terrorist bombings in Spain.
The series is the brainchild of documentary filmmaker Charlie Ebersol, the son of NBC Sports chief Dick Ebersol. On Monday, The New York Times reported that ShineReveille International has acquired the series for foreign distribution.
The series has already attracted scrutiny from a range of media observers—who admittedly have yet to see the final product—who are concerned about the blurring of the line between journalism and entertainment, and between American reporters and the U.S. military. The series stars Adam Ciralsky, a former Dateline NBC producer, who is billed as the show's onscreen journalist. Left unsaid is that a decade ago, before a public dispute with his former employers, Mr. Ciralsky worked as a lawyer for the C.I.A.
The decision by NBC News' president, Steve Capus, to green-light the project despite the potential ethical conflicts has also raised questions within his news division. "Foreign governments already are suspicious of the independence of U.S. journalists who report overseas," a source at NBC News told The Observer. "Iran and North Korea, for example, imprison legitimate journalists whom they suspect of being spies. The Wanted plays perfectly into their hands—showing an active U.S. journalist in bed with former State Department officials and U.S. Special Forces soldiers—all working to capture foreign criminals on foreign soil. This is what I'd call 'not useful.'"
"The Wanted has been reviewed by NBC News management and lives up to our standards," said a network spokesperson. "We look forward to continuing this dialogue after people have viewed the program when it is broadcast next Monday."
What do traditional foreign correspondents make of NBC's nontraditional foray onto their turf? "My first thought, from the preview, was that it seemed like a very cold, Hollywood, heroes-vs.-villains treatment of the messy, messy world of war," Mr. Cave, who spent 2007 reporting on the war in Iraq for The Times, wrote via email. "It made me wonder if the complex pain and suffering of such moments wasn't being exploited, and turned into a sport in which the people that are supposed to matter—according to producers, and the promos—are the Americans parachuting in, rather than those who were actually involved.
"Are we supposed to believe that this is an example of how to take seriously some of the world's most horrific, gut-wrenching events?" he added. "The risk is that this will look like a very childish approach to the world's most serious problems."
One TV news foreign correspondent told The Observer that it's already difficult enough to work as an American journalist in countries with repressive regimes. Accusations of espionage and sudden visa revocations are part of the job. He speculated that something like The Wanted could make the job even harder, particularly for foreign correspondents working at NBC News.
"I wouldn't want to work for a news organization in a repressive country knowing that my news organization was also responsible for a program that was essentially targeting affiliates of the repressive government," said our source. "I'd worry there would be a backlash against me."
On the other hand, whatever its journalistic merits, Aparisim "Bobby" Ghosh, the world editor of Time magazine, doubted that The Wanted would put foreign correspondents in any greater danger than they already are. "Regimes that accuse Western journalists of being spies know full well that the accusations are absurd," he argued. "When journalists are arrested these days, it's usually because those governments want a bargaining chip they can use.
"Yes, there are some people lower down the chain of command in Iran and NoKo who may actually buy the official propaganda," he wrote via email. "But I doubt an NBC show will make them any more credulous than they are already.
"In my experience some jihadis believe ALL foreigners are spies—journalists, human-rights activists, aid workers, exchange students, even tourists," he added. "But these nut-jobs also believe Jewish people kill and eat babies. Western societies can't censor themselves on account of some lunatics. I would defend the right of the producers of The Wanted to make a stupid show."
fgillette@observer.com