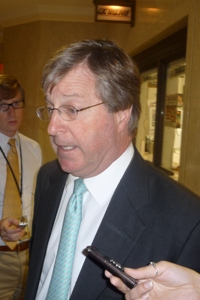 ALBANY—State Senator George Winner just suggested Paterson's appointment of Richard Ravitch is an impeachable offense.
"I think that any time you're talking about willful violation of the constitution for political purposes, as I believe the governor is doing, I think it's a fair game to take a look at it," the Elmira Republican just told reporters. "I think the Assembly should take a look at it. This type of behavior, I think, is intolerable."
Under the State Constitution, articles of impeachment must be approved by a simple majority vote of the Assembly. (The Assembly is firmly controlled by Democrats.) The offense is tried before a combined body of the State Senate and Court of Appeals (that's 71 people in all), and conviction requires a two-thirds majority.