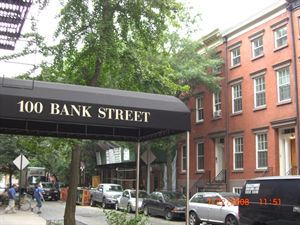 The present state of Jane Jacobs Way probably would have surprised the late urban activist. The White Horse Tavern, Jacobs' haunt, lives on, although its sidewalk café crowd has turned pretty Polo shirty. The surrounding blocks are populated by purveyors of the over-hyped and tiny: Little Marc Jacobs and Magnolia Bakery.
The West Village was Jacobs' muse: She wrote of the "sidewalk ballet" of daily life outside her 555 Hudson Street (currently on the market for $3.5 million), inadvertently etching the Rosetta Stone for arguments, into the present, over gentrification, what she aptly termed "oversucces."
Last week, the city named a Hudson block in her honor. Next week, Random House will publish Anthony Flint's Wrestling With Moses: How Jane Jacobs Took On New York's Master Builder and Transformed the American City. This week, we consider buying real estate in Jacobs' former neighborhood.
One Hundred Bank Street, about a block from Jane Jacobs Way, was built in 1956—five years before Jacobs published The Death and Life of Great American Cities. Prudential Douglas Elliman was showing two one-bedroom apartments in the C line, and both looked out over Bank at a row of low-rises, including a small white building once home to Yoko Ono and John Lennon before they split uptown for the Dakota.
Apartment 3C offered plenty of space but not much storage, just one closet off the bedroom. Oddly, the low refrigerator and freezer were situated side by side beneath the kitchen counter, and there was "no particular dishwasher," according to broker Charles Hughes—although he said that most of the potential buyers would go out to eat anyway.
He had only seen one group of visitors Sunday, but said that the apartment averaged 10 weekly. Still, there haven't been any offers, although the price (now $669,000) had been lowered several times. Mr. Hughes said he suspected that buyers were looking to spend under $600,000.
Downstairs, 2C was asking $699,000. It had the same basic layout, but with some judicious renovations: The addition of a closet between the living room and bedroom broke up the ample space nicely, as well as provided storage.
Broker Ian Wolf called his visitors "typical West Village"—20s, 30s, "professionals, obviously."
A neighbor strolled in, drinking an Odwalla, to look around and chat. He lived in a studio and liked the building, noting that it was just far enough from the meatpacking district that the "douchiness" did not become oppressive. Sidewalk ballet, indeed.
AT 295 WEST 11TH STREET, across Jane Jacobs Way, #1JKL was asking $1,495,000—the seller, a young family, was moving to Rye, leaving behind the impressive tree murals in the children's bedrooms in favor of actual trees. The apartment had been converted from three units for a total of three bedrooms and three baths. The master bedroom was a little cramped, but the living spaces felt open and inviting. A small moat separated the ground-floor apartment from Bleecker Playground.
"My son used to play in that park!" Judith Salavetz said.
"Judith's kids have gone to every school in New York; she's lived on every block in New York," Ned Davis, her husband, later explained.
Mr. Davis and Ms. Salavetz were one of three boomer couples passing through toward the end of Sunday's open house. He is a principal at North River Capital; she does book design (her most recent: Art of the Modern Movie Poster). They have an apartment near Carnegie Hall they're pleased with, but Ms. Salavetz had lived in the Village and wanted to come back.
"I'm a Village girl," she said. She described her ideal living situation as the parlor floor of a Village townhouse.
It was the only neighborhood where they'd consider buying; and while their collection of children and stepchildren were college age and older, they were only looking at places with two or more bedrooms.
Mr. Davis wore his bike helmet. Ms. Salavetz had a list of open houses yet to be visited, but he was leaving after this one. He called 295 11th Street "by far the nicest" of the places they'd seen; still, he was not without reservations.
"If I were younger, I'd really be digging this," he said. But the times, they are a-changin'. Now, he said, "I'm doorman-oriented."
mfischer@observer.com