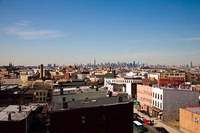 A Times article last Tuesday heralded development in Bushwick with the deadpan headline "Bushwick Is Getting Some Wine Shops." Sunday's open house at 38 Wilson Avenue, however, was more of a beer-and-hotdogs gathering.
Broker Alex Gandelman manned the rooftop grill in between escorting visitors through the development's one-bedroom condos. It was, he declared, "the funnest building ever."
"Funnest" is subjective, but the building certainly seemed to reflect the emergent recognition (witness the Billyburg bust) that outer-borough pioneers probably don't want slick corporate homes. The economy might put on a damper on Brooklyn gentrification's outward march (Manifest Destiny for the early '00s)—but at least 38 Wilson offered homes that were at home in their neighborhood.
The building features corrugated metal paneling that echoes the facades of older, neighboring structures.
"They didn't want a glass tower in Bushwick," Mr. Gandelman explained. He pointed to a nearby development on Grove Street as an example of a building that "overdid it."
The priority was keeping the building affordable, which meant economizing on some finishes. This occasionally yielded strange results—a washing machine alongside the kitchen cabinets and dishwasher? But the development's casual air was mostly appealing. Work by Bushwick artists decorated the model home, and while showing off the common garden, Mr. Gandelman urged prospective buyers to "plant whatever you want, so long as it's legal."
The condos start at $286,000 for 593 square feet.
Sunday's visitors included Pedro and Dixie Diaz, who were looking for an investment property in anticipation of their daughter leaving for college. Mr. Diaz, who does maintenance work for the school system, had used Mr. Gandelman's company (aptsandlofts.com) to sell a condo a few years back. He had grown up in Williamsburg and was interested in the area's evolution, as well as the prospect of a bargain in Bushwick.
Ms. Diaz, a union administrator, was concerned about finding a place big enough to house their furniture. "We need 2,000 square feet!" she said.
She found 38 Wilson promisingly spacious, despite offering a maximum size of 618 square feet.
Mr. Gandelman reported seeing lots of first-time buyers, some locals and some people who've never been to "good old Bushwick." He himself was a Brooklynite who left only recently (reluctantly) for Manhattan.
Developer Jacob Sacks of Cayuga Capital Management wore a Tabor Electric Construction shirt embroidered with the name "Tony." It matched his yellow Vitamin Water. He said that five out of their 15 units are in contract since launching sales two months ago, and that the building had been approved for FHA loans—meaning 30-year amortization with a 30-year, fixed rate for qualifying buyers; in other words, "none of this subprime silliness."
Mr. Sacks had been quoted in the Times article because of his experience with the area's real estate. He felt that the proposed retail development (such as a conveniently located grocery store) was a natural step in Bushwick's development—as opposed to a wishful grab for "wine shop" yuppies.
The bodega next door to 38 Wilson accepts food stamps. Along the walk to the subway, old guys play dominoes beneath flapping Puerto Rican flags, and the Boar's Head factory churns out deli meats. There are only a handful of deep-Vs and mustaches to be seen. The streets are pretty quiet.
From the rooftop barbecue, it was possible to look down on overgrown lots, barred windows and clotheslines. But the surrounding buildings were low, and the Manhattan skyline, though distant, was lovely: a view that could legitimately be called panoramic.
mfischer@observer.com