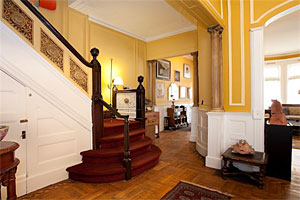 Amy Sohn's Prospect Park West, a gleefully bitchy take on Park Slope moms by a former New York columnist, won't be released until September—but as of last week, Sarah Jessica Parker's production company was already looking to turn the novel into an HBO series. The allure of the park is hard to resist. Whether that's as true for real estate as for chick-lit remains to be seen, but Sunday saw two open houses on Montgomery Place, just steps away from Prospect Park West.
Park Slope may be an easy mark, but Montgomery manages to transcend the stereotypes: it's too darn pretty to be dismissed as a smug yuppie enclave. Turn-of-the-century developers built it as a private, block-long street, commissioning architect C.P.H. Gilbert to design the Romanesque Revival row houses. In 2006, Time Out New York called it one of the 10 best blocks in New York.
At 36 Montgomery Place, Warren Lewis Realty was showing an extravagantly beautiful five-story townhouse, built in 1901 and designed by Gilbert himself. With its high ceilings, period details, and sunflower-yellow walls, 36 shows off just the sort of quirky-yet-opulent domesticity that gives the neighborhood its mystique. But when broker Judith Lief was told about Prospect Park West, she was dubious.
"Do we like that?" she asked.
Perhaps the house doesn't need HBO to give it an aura of privilege and intrigue. Times articles from the 1920s and 1930s mention it in connection with dispossessed heiresses and gunshot-wounded lumber tycoons.
The current owners were downsizing after 35 years, and Ms. Lief had seen one or two serious families per open house—mostly young couples who were pregnant or had one child, "typical Park Slope," she said. The house would provide ample space for a much larger family. With seven bedrooms, it was asking $3,650,000.
Across the street, at No. 55, Montgomery Place magic was available on a more modest scale. The walkup one-bedroom 4F was asking $389,000.
"I'm selling my own little apartment!" said owner and Corcoran broker Sarah Parsons.
She had hoped to rent the place out, and had mixed feelings about selling. She loved its light. The view made her feel like she was in London. But the apartment was too small: She plans to move someplace larger, the better to accommodate her mother's visits from Germany. Indeed, it was hard to imagine the apartment housing visitors much larger than Tulip and Finnegan, Ms. Parsons's Pomeranian and Chihuahua.
"Finny, come here, my pussycat," she beckoned. The dogs have the run of the 550-square-foot apartment—tidy kitchen, wood-floored living room, and a bedroom that snugly holds a queen-size bed. Of the five-floor co-op's 10 units, all but two are the same size, and couples occupy many. Some had been there 20 years; Ms. Parsons, only four. Over 30 years of apartment hopping, she had developed a Candace Bushnell-worthy approach to New York real estate.
"Never fall in love with something—a street, a house, an apartment," Ms. Parsons warned. "Make a cold-blooded decision."
Some of the visitors to 55 Montgomery had been young couples, a couple were young attorneys, and many were single young women. There had been two so far Sunday.
"Women are more adventurous," Ms. Parsons said, at least when it came to spending money on an apartment. But the day's third prospective buyer was a 30-year-old computer programmer and first-time buyer—and, despite the owner's predictions, a man.
Ms. Parsons said she hated chick lit, and seemed to prefer discussing Nabokov with the Russian-born, Cornell-educated programmer. Still, she was intrigued by Prospect Park West. And her cold-blooded advice belied a romantic optimism befitting of a chick-lit heroine: In spite of herself, she had fallen hard for Montgomery Place. The apartment she herself was considering was just down the street.
"You also have to buy with your heart."
mfischer@observer.com