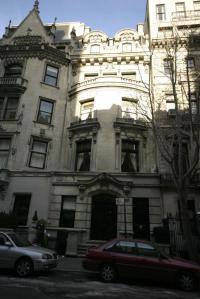 There are worse things in the world than getting $15 million instead of $23.5 million for your parents' ancient, scruffy Upper East Side mansion after a juicier deal falls through. (Take, for example, the penthouse triplex at 895 Park Avenue, which was once listed for $29.5 million, but went to contract this summer for around $15 million after three other deals failed.)
But a $15 million townhouse sale can still be a nuisance. In March, The Observer reported on the near-deal for a 13,095-square-foot, 105-year-old mansion at 5 East 78th Street. The place, which had belonged to the late Adele Simpson, a fashion designer who dressed tidy postwar ladies like Pat Nixon, went to contract before last year's Lehman collapse for $23.5 million, its full asking price.
The would-be buyers, a Wall Street executive and his wife, walked away from their deal. "They didn't do their homework," Simpson's daughter Joan Raines said later, "and I think they came and realized it was maybe too much of a—what do you call it—an undertaking to renovate. They should have thought about that before."
The genteel, Virginia-accented agent Edward Lee Cave put the place back on the market for $21 million, which became $18.5 million. But city records show that the house sold earlier this month for $15 million, or a massively modest $1,145-per-square-foot (although the original deal's $1,794 per square foot wouldn't have been exorbitant, either.)
"Well, sure, it was disappointing, but what are you going to do about it, you know? It is what it is," Ms. Raines said. "The responsibility is over. It's another era. Someone else can deal with it and enjoy it."
The house was bought by a limited liability corporation whose address is the Blue Note Jazz Club on West Third Street, care of Tsion Bensusan, who did not return a call to his office. His father, Danny, opened the Blue Note and the Highline Ballroom, among others.
On the downside, the bargain mansion needs a gargantuan amount of work. "It's beyond a gut job; there's almost nothing salvageable," a source who's seen it said. "A wealthy, proper person would definitely spend $10 million, and you could spend 15." For starters, the house has spent decades divided into apartments, including a three-floor sprawl rented out by Brazil Consul General José Alfredo Graça Lima.
"They got a bargain, so they can add to it," Ms. Raines said. "It needs a lot."
mabelson@observer.com