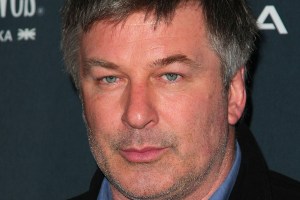 Who knew that the little metal ring at the top of a can of tennis balls was such a big deal?
From a recycling perspective, apparently, it makes all the difference.
"What the USTA did this year to recycle the tennis ball cans was extraordinary, because you have to take that little metal rim off the plastic can," said Peter Lehner, executive director of the National Resources Defense Council (NRDC). "This year for the first year they will be recycling all those tennis ball cans, which because they're both plastic and metal are extraordinarily difficult and they had to find a company that would be able to do that, really showing their dedication."
This tennis ball can coup and other green initiatives, courtesy of a partnership between the USTA and the NRDC, were announced on Saturday by USTA Chariman Lucy Garvin, Lehner, and a special guest, Alec Baldwin. Baldwin is well known as a bit of a tennis buff and Open regular, and he has lately been an NRDC stalwart, too, MCing its annual benefit in March. He also shares a hometown–Massapequa, Long Island–with Open spokesman Chris Widmaier. He's the celebrity endorser dreams are made of!
The three presented a new PSA voiced by Baldwin and announced that the USTA has this year placed recycling bins next to every trash can at the Open, along with reducing their energy use and increasing their use of organic, green food. They presented two environment-themed Open T-shirts, one a girly "Green Your Game" number designed by Venus Williams, the other a rather chic grey shirt that said "Save Our Planet–It's the Only One with Tennis." (How do we know?!?!)
Baldwin explained how green adjustments had affected his life: "The show I work on, we're not allowed to have plastic individual drinking bottles anymore. We all have a container and drink out of a cooler, so we reduce the plastic footprint that way." He also seemed reluctant to root publicly for any current players, laughing while he chose as his favorite player an oldie but goodie: Chris Evert.
Tennis recycling's next frontier, by the way, would be tennis balls, which currently consume oodles of virgin rubber. (Yep.) As Peter Lehner said, with more than a hint of weariness, "I've learned quite a bit about tennis balls for this event…Whether Wilson will be able to make the changes next year or the year after as technology develops, I'm not sure, but it clearly shows that that is the future."