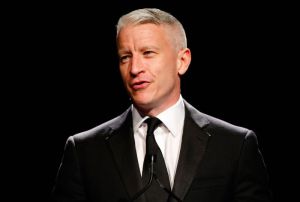 Among the new wave of emo news anchors, Anderson Cooper originally made his mark in the summer of 2005, reporting on the myriad indignities springing from the destruction caused by Hurricane Katrina.
Next week, Mr. Cooper will return to the wellspring of his emotional outrage. CNN announced today that all next week AC360 will present a series of reports on how New Orleans is faring some four years after the destruction.
The reports will culminate on Thursday, August 27, when Mr. Cooper will anchor his show from New Orleans, including a special walking tour with Democratic strategist and Louisiana native James Carville.
Keep some tissues handy!
More from today's release:
As part of an in-depth series titled After the Storm, CNN's Anderson Cooper 360° will air special segments throughout the week on the city of New Orleans and how a city plagued by corruption and still known for turning its back on its citizens is rebuilding after Hurricane KatrinaBeginning August 24th, Anderson Cooper along with CNN correspondents Sean Callebs, Drew Griffin, Gary Tuchman and CNN's senior medical correspondent Dr. Sanjay Gupta will bring viewers the latest on the state of education, healthcare, the levees and the justice system in New Orleans.