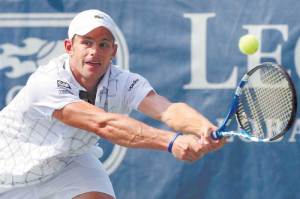 At some point in the not-so-distant past, Andy Roddick was our great American hope. It was early in the decade, and Pete Sampras was calling it quits. Andre Agassi was slowing down, and New York–area tennis fans turned to a cute, plucky native of Texas. He was going to be the new king of Queens.
He delivered early—winning the Open in 2003—and then never again. Roger Federer and Rafael Nadal became a wall that Andy Roddick kept running into, at full speed. He lost and lost. He stayed in the top 10, but once a Grand Slam tournament headed into the second week, we all knew that the American with the best shot of winning a major—and an American hasn't won one since Roddick's Open triumph—would come up short.
He seemed to know that's how we felt, too. Two years ago, when Roddick was gearing up to face Federer in the quarterfinals at the Open, he told an increasingly bored press corps before the match, "I expect a lot of myself. I don't think anybody else really expects much from me."
He played well. He lost in three sets.
"C'mon, Roger, give him a chance!" a fan screamed mid-match. Twenty thousand people in Arthur Ashe erupted into laughter.
That basically summed up his fan support in Flushing: They were behind him, but something kept them from turning into full Roddick devotees the way they did for, say, Jimmy Connors. In the end, they were resigned to the inevitable outcome.
"People would walk into those big matches and watch Andy get outplayed year after year," said Mary Carillo, the NBC and CBS tennis analyst and Queens native. "I don't think they lacked in support for him. I think they simply lacked faith in him."
We've never really embraced him, but this year, it's going to be downright suffocating.
But then something happened last month at Wimbledon. As New Yorkers gathered around their TVs with bagels and coffee for the men's final, the only question seemed to be how quickly Federer would dispose of Roddick. Then Roddick quietly won the first set. He almost won the second set. He lost the third, but won the fourth. It took Federer 30 games in the final set, and the longest match in Wimbledon history, to beat Roddick.
Somehow, as far as the fans were concerned, it changed everything.
"He endeared himself to more people in defeat than he did in winning the U.S. Open," said Jon Wertheim, a Sports Illustrated writer and author of Strokes of Genius, a book about the 2008 Wimbledon men's final.
If Roddick was the man who we all vaguely disapproved of because of the limitations of his painfully inartistic game—big serve and forehand, period—he's now heading into the Open as an unconditional fan favorite. He'll be the underdog who needs a little pick-me-up. He's finally the local hero.
"I think that Wimbledon was the seminal moment in Andy's career—in that loss," said Carillo. "He's never had the crowd support that he will get this year."
Or, as veteran tennis coach Nick Bollettieri put it: "Andy Roddick is loved in New York. He's a friggin' fighter. He's got that spirited attitude."
It has not been lost on Roddick that things are different now.
"To come back here and kind of not be able to go get coffee without people wanting to talk about tennis, I was sad, but that was awesome, because that's not something I've been a part of here before," he said on Aug. 17 at a press conference for a U.S. Open tuneup, describing fan reaction since returning to the States. "It was really cool that for a couple days, kind of tennis was at the forefront of water-cooler talk."