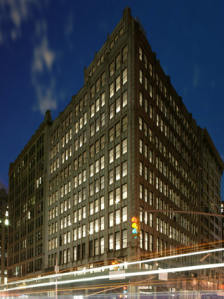 Is a shiny new Park Avenue condo fated to become the next Sheffield57?
On behalf of the owners of the building's 110 units, the board of managers of the luxury condominium 260 Park Avenue South is suing the building's landlord, Tessler Developments, over a first floor concrete hole. And they've filed a complaint with the Attorney General over a host of other grievances, too.
"This is completely different from Sheffield57," real estate attorney Aaron Shmulewitz, who is representing the plaintiff with Brian Epstein and others, said yesterday. But their allegations suggest that 260 Park's uprising may not bode well for Tessler. According to the lawyer, Tessler sliced out a hole between the first-floor and the basement to build a staircase. A legal complaint filed on Monday alleges that this was "unauthorized" and "irreparably" harmful to condo owners.
The lawsuit doesn't ask for money. The board wants Tessler to close the concrete hole (and not engage in other "unauthorized construction" again). But a concrete hole isn't just a concrete hole on Park Avenue. It's the surface of an abyss! "There are issues with regard to the roof. There are issues with regard to water-proofing. There are issues with regard to the budget," Mr. Shmulewitz said. "There are all sorts of issues."
Among other things, their Attorney General's complaint also alleges that Tessler misrepresented "various construction defects in the building" in the offering plan, he said.
Israeli-born developer Yitzchak Tessler, the head of the Tessler Developments, declined to comment for this article. "I cannot respond to that," he said before hanging up the phone. "No."
The condos, at 21st Street in the Flatiron District, are quite pricey. Robert Barbetti, a JP Morgan managing director who filed an affidavit in the lawsuit, bought his condo for $1.2 million in February 2006. Dr. Sushil Duddempudi, who specializes in gastroenterology, bought his condo for $1.475 million in February 2006. And radiologist David Hayt bought his condo for $1.45 million in February 2006.
Mr. Tessler bought the former union office complex at 260 Park in February 2003 and started the condo conversion right away. While he maintained its neoclassical façade, he gutted the interior, added four floors, and built a courtyard with terraced gardens. The apartments reportedly sold quickly.
When The Observer visited 260 Park Avenue on Thursday, the staircase into the basement was not immediately visible. In fact, The Observer could not find it before a doorman got impatient.