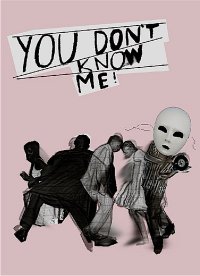 Wednesday night, Bomb, Opium, and Gigantic co-hosted "You Don't Know Me," an end-of-summer lit-mag blowout. The Bowery Electric had donated the space, while friends of the magazines had donated their talent, providing performances that ranged from a bluegrass band to a short play. And the generous editors had provided the vodka, which probably made the reading from The Werewolf's Guide to Life funnier than it might've been.
The evening was intended to draw together collaborators from across disciplines—to desegregate art and literature, said editor Ann DeWitt of Gigantic. It also provided a chance to show off friends' more unexpected skills. The bluegrass band consisted of writers.
Gigantic has published just one issue so far, but enjoys a supportive relationship with the nearly decade-old Opium and 28-year-old elder statesmagazine Bomb. Ms. DeWitt herself had interned at Bomb as a grad student.
Paul Morris, the general manager of Bomb, said that his magazine was happy to share its success. Bomb was growing in a "strange, great new way," he reported. Subscriptions were up 20% this year, and the magazine had recently doubled its staff.
Opium editor Todd Zuniga was on the shmooze—working the party to an almost athletic degree, looking shorn and dapper.
New Yorker writer Ben Greenman presented what he described as "an 'entertainment'" (quotation marks his) based on his recent novel, Please Step Back­—a staged reading, complete with recorded phone noises and Miles Davis.
The Observer caught up with Mr. Greenman post-entertainment. "I'm drinking it off now," he explained.
"That play was sort of boring!" said Mr. Zuniga.
Mr. Greenman is a longstanding all-star judge at Mr. Zuniga's signature event, the Literary Death Match—an evening of readings by four people from four different literary entities, followed by an event such as a sack race, duel, or the making of lemonade. Mr. Zuniga whipped out his iPhone to show a video of a recent Death Match held in conjunction with the magazine's Infinity issue. Participants raced while balancing copies of Infinite Jest on their heads. Currently, Mr. Zuniga is pitching the Literary Death Match to production companies for development as a TV show.
"I believe literature can be pop culture again," he said.
Together, he and Mr. Greenman attempted to identify the role Mr. Zuniga had carved out for himself.
"Barnum-slash-what? Flannery O'Connor?" Mr. Greenman proposed.
Mr. Zuniga later admitted that he would prefer to be Tobias Wolff or George Saunders.
The Bowery Electric offered two floors of space, but the evening's activity centered in the lower level, where there was a disco ball and lots of exposed brick. It looked like a basement, noted performer Joseph Keckler: "So if you like basements…"
Mr. Keckler, who comes from an opera background, now draws material from what he calls "dissociated autobiography." He presented tales of talking cats, Satan and death, with great conviction.
As he performed, Mr. Zuniga knelt in front of the stage to take iPhone pictures. "I wanna make sweet love to that guy in the most homo—" He paused. What's the non-gay one? "Homo-social way."
Sweet homo-social sex: what else would one expect at an end-of-summer literary love fest?