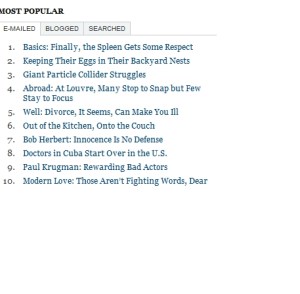 Ever notice that the NYTimes.com most-emailed list is slanted toward an older demographic? Maybe because only folks over a certain age—like our Aunt Mabel—still use the email tool. Here's a quick, annotated guide to what Grandma and Grandpa thought you might be interested in from NYTimes.com …
1. A-ha! So the spleen does matter. Also: It's the first time Auntie has given love to a Health story in a while. I guess we're living a rather sick-free summer (some of us at least! Cough! Ahhh-choooooo!).
2. Here's an animals story we can get behind. A high demand for baby chicks. Someone email this to Jill Abramson.
3. Ugh. More space problems.
4. Cute Kimmelman piece on the Louvre.
5. Don't you get divorced! Lest you get mentally crazy. Tara Parker-Pope returns with a big hit after that pandering Harry Potter teens-and-booze piece last week, which was clearly a naked attempt to wrest the top spot from Mark Bittman's salads.
6. Didn't we tell you that this Pollan piece would land here at some point last week? And guess what? We liked it! Our favorite Pollan story in a while (and check out tomorrow's Observer as we discuss the foodies craze and what that means for the next restaurant critic at the Times).
7. Herbert attacks Harvard in Gates-Gate.
8. The concise description: For some, it's better to be a nurse in the U.S. than to be a doctor in Cuba.
9. The Modern Love piece that made waves everywhere! First time in a while we've heard so many people talking about one of these, but this one was a huge hit! Surprised it didn't have better bounce for a Tuesday.
10. Kruggie!
Today's Tally:
Health: 3
Columnists: 2
Food: 1
Modern Love: 1
Arts: 1
Space: 1
Business: 1
Overall Tally:
Columnists: 81
Health: 58
Food: 27
Technology: 19
Op-Ed Contributors: 19
Travel: 19
Money: 16