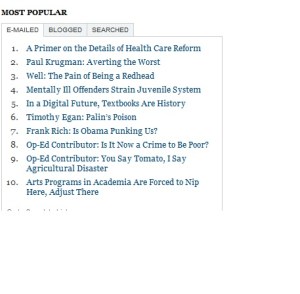 Ever notice that the NYTimes.com most-emailed list is slanted toward an older demographic? Maybe because only folks over a certain age—like our Aunt Mabel—still use the email tool. Here's a quick, annotated guide to what Grandma and Grandpa thought you might be interested in from NYTimes.com …
1. A helpful guide on health care! It's like Bittman's salads, just for health reform.
2. Krugman tells us that we avoided a Depression! Thanks to the government.
3. Tara Parker-Pope scores big with her redhead story. It made it through the whole weekend and she still stands strong. This was the comeback piece she was looking for.
4. National feature! The mentally ill are being dumped in prison instead of getting therapy and help. Gross.
5. This story seems kind of boring to us. It's nothing new that teachers are electing to draw material from stuff that can be found online–Hello, Google Scholar?–instead of relying on those old text books. Mabel is feeling nostalgic!
6. It looks like Timothy Egan dashed this one off, but it was a big score! Just goes to show all you need is Sarah Palin (take note, Ms. Dowd!).
7. A no. 7 spot for Frank Rich on a Monday is tantamount to grounding in a double play. Maybe the notion of Obama-is-not-the-reformer-we-expected is a played out storyline already, though that has never stopped Frank in the past. Unclear what happened here.
8. Barbara Ehrenreich on the poor!
9. Oy. We were just about to say how happy we were that Auntie finally seems all filled up from the unstoppable stream of food stories from the Times, but then there's this one! Dan Barber from Blue Hill weighs in on a piece about…tomatoes, and eating and making food the right way.
10. The bloody axe hits arts programs!
Today's Tally:
Columnists: 3
Health: 2
Op-Ed Contributors: 2
Education: 2
Food: 1
National: 1
Arts: 1
(We counted the tomato story as food + op-ed contributor and the arts program story as arts + education)
Overall Tally:
Columnists: 88
Health: 73
Food: 30
Op-Ed Contributors: 23
Technology: 21
Travel: 19
Money: 18