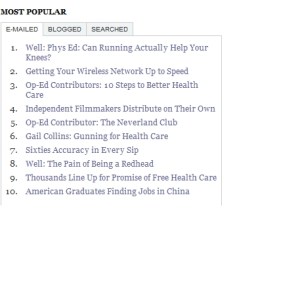 Ever notice that the NYTimes.com most-emailed list is slanted toward an older demographic? Maybe because only folks over a certain age—like our Aunt Mabel—still use the email tool. Here's a quick, annotated guide to what Grandma and Grandpa thought you might be interested in from NYTimes.com …
1. If we were Tara Parker-Pope, we would have not have Gretchen Reynolds writing on the Well blog. Lunch is getting eaten.
2. Thank you for sending this, Auntie! As we know well from our life back at home in Williamsburg, a new wireless router can speed everything up. We just wish you could have sent this one yesterday.
3. Doctors write in to give us 10 helpful steps for health care. It's all very wonderful! And the credentials on tis one: Staff writer for The New Yorker and director for the Center for Surgery and Public Health at Brigham and Women's Hospital in Boston; president of the Institute for Healthcare Improvement in Cambridge; director of policy-reform efforts at the Dartmouth Institute for Health Policy and Clinical Practice; and a director of health care reform policy at the Brookings Institution.
4. We think Auntie's got lots and lots of little nephews and nieces who are trying to make it into the movies! So here are some suggestions on how you can pay for it. Maybe if you write us a check first?
5. Ain't she sweet!
6. Loving Gail Collins today.
7. Oh Auntie, you old drunk.
8. Tara, look at no. 1. Keep looking. Remember that. Time for something new.
9. As we reported for you first, Jennifer Steinhauer was one of those on a short list to take over as restaurant critic (the job that ultimately went to Sam Sifton). Here she is on…health!
10. Three days for this story, but it'll be gone tomorrow.
Today's Tally:
Health: 4
Op-Ed Contributors: 2
Columnists: 1
Foreign: 1
Technology: 1
Business: 1
Booze 1
(we counted the 10 doctor tips as health + op-ed contributors)
Overall Tally:
Columnists: 92
Health: 85
Food: 31
Op-Ed Contributors: 27
Technology: 23
Travel: 19
Money: 18