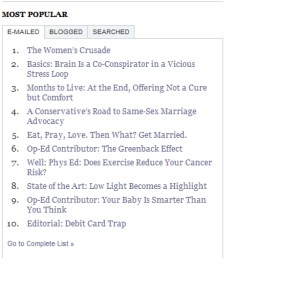 Ever notice that the NYTimes.com most-emailed list is slanted toward an older demographic? Maybe because only folks over a certain age—like our Aunt Mabel—still use the email tool. Here's a quick, annotated guide to what Grandma and Grandpa thought you might be interested in from NYTimes.com …
1. Auntie, we feel like we're finally getting to know you. It's not like it took all that much work to figure out that Nick Kristof and his wife's piece on women would land at top of this list. The question now is: How long does it stay? We have a feeling that even next week, we'll see this somewhere in the top 10.
2. That scary brain.
3. This is how you live before you die. Also, thanks to this story, and two others on the top 10 list, health stories have regained the lead over columnists as the most emailed stories by Auntie.
4. So! Yesterday we were wondering if this Ted Olson news had been around forever and we just missed it. Apparently, yes and no! Friends we asked last night said it had been "out there," but a story in The Times rocketed it into the news cycle. So, in which case, thank you, Auntie, for sending! And now: Joe Bruno? Dick Cheney? And Ted Olson? I mean, who's next? Bernie Goldberg?
5. I assume Auntie is just sending this one to her girlfriends.
6. Again, we'll take Warren Buffett's word for it. Choire tries to explain it to us.
7. Is Tara on vaycay?? Where are you! Here's Gretchen swooping in, with a strange story that is a surprising hit, kind of. If you don't want lung cancer it's apparently more useful to "spend your leisure time jogging instead of picking berries, mushroom gathering or fishing." Us too. No idea.
8. First camera story ever on Mabel! We're assuming around Christmas we'll see a lot of these. In which case, Tara, meet your new enemy: David Pogue.
9. Farewell, Ms. Gopnik! Likely your last day here, but impressive run!
10. Fantastic editorial. This is amazing: A study has discovered "that banks will earn more than $38 billion this year from overdraft and bounced-check fees. Moebs also estimates that 90 percent of that amount will be paid by the poorest 10 percent of the customer base." Unreal. Mabel, please send this more! This is wishful thinking, but we would like this in the top 5 tomorrow.
Today's Tally:
Health: 3
Op-Ed Contributors: 2
Columnists: 1
Magazine: 1
Books: 1
National: 1
Editorial: 1
Technology: 1
(We counted the Kristof piece as Columnist + Magazine.)
Overall Tally:
Health: 99
Columnists: 98
Op-Ed Contributors: 35
Food: 32
Technology: 25
Travel: 19
Money: 18