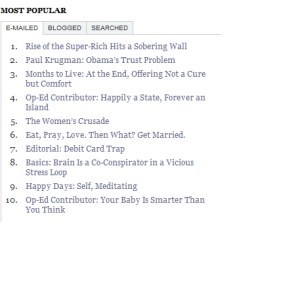 Ever notice that the NYTimes.com most-emailed list is slanted toward an older demographic? Maybe because only folks over a certain age—like our Aunt Mabel—still use the email tool. Here's a quick, annotated guide to what Grandma and Grandpa thought you might be interested in from NYTimes.com …
1. The big, blowout, rich-getting-poor A1 piece.
2. Krugman offers Obama a communicatios lesson. We've always found Krugman to be a wonderful communicator. Especially when it comes to talking to Max about his new $1.7 million pad.
3. The palliative care specialists!
4. Hawaii!
5. We're surprised Kristof-and-wife is falling like this.
6. And we're surprised this is somehow sustaining itself on the Top 10.
7. But not this one! We need to know about those evil overdraft fees. One of the finest editorials in the Times in a long time, and we're grateful Mabel is sending this one out.
8. The crazy brain!
9. Let the lizards stick to meditation. Not for us, Auntie.
10. The baby story is one of those pieces that will stick around for a long time and the Times will generate absurd amounts of traffic for a long time because people will keep being like, "Oh, well didn't you read that piece in the Times about the smart babies?"
Today's Tally:
Op-Ed Contributors: 3
Health: 2
Columnists: 2
Magazine: 1
Books: 1
Editorial: 1
2,780 Words about the Super Rich Getting Poor: 1
(We counted the Kristof piece as Columnist + Magazine.)
Overall Tally:
Health: 101
Columnists: 100
Op-Ed Contributors: 38
Food: 32
Technology: 25
Travel: 19
Money: 18
2,780 Words about the Super Rich Getting Poor: 1