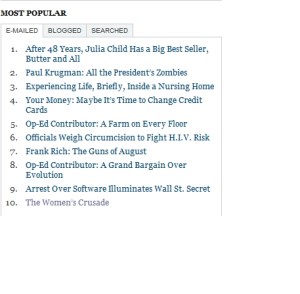 Ever notice that the NYTimes.com most-emailed list is slanted toward an older demographic? Maybe because only folks over a certain age—like our Aunt Mabel—still use the email tool. Here's a quick, annotated guide to what Grandma and Grandpa thought you might be interested in from NYTimes.com …
1. Well, our theory has been smashed into a million pieces. I suppose it makes sense that Mabel is the one who shattered our dreams. See, a few weeks ago, sometime after the Frank Bruni news, the Sam Sifton news, the Sifton piece on meatloaf, the endless stories about Julie & Julia, the Page Six items, the Mark Bittman salads, just everything!—everything with food!—somehow we thought we would be tired of it. We'd all run to McDonald's! Or, you know, Chipotle. On the contrary. Apparently, we want more food! We want Julia Child's tricks to tickle us again. And The Times goes right back to the well and previews its upcoming best-seller list with this story. And if this quote from Nora Eprhon doesn't frustruate you as much as it does us, and if it doesn't reinforce to you how The Times' love of her has recently gone way over the top, well, we'll admit we're the crazy ones: "I'm completely delighted that people are walking out of the multiplex and into the bookstore." We really want her opinion here?
2. Mean government, mean!
3. Last week, we learned how to die. Now we learn how to live in a nursing home.
4. Ha. The punchline in this piece is: "If your credit is good." Good one.
5. Farm & the City.
6. This is a story about cut-versus-uncut for the straights. Gays need not apply.
7. Our prediction was wrong: Frank Rich did not lede with Woodstock.
8. Bridging the gap on evolution. The always-rare religion piece!
9. Anything software and Wall Street is a Mabel lock.
10. Isn't it funny that this story has been around for (technically) a day? It feels like three weeks now! Oh, the Internet!
Today's Tally:
Columnists: 3
Op-Ed Contributors: 2
Health: 2
Money: 2
Magazine: 1
Food: 1
Books: 1
Technology: 1
Religion: 1
(We counted the Kristof piece as Columnist + Magazine; the evolution story as Religion + Op-Ed Contributor; the software Wall Street story as Money + Technology; the Julia Child story as Food + Books.)
Overall Tally:
Health: 103
Columnists: 103
Op-Ed Contributors: 40
Food: 33
Technology: 26
Travel: 19
Money: 19