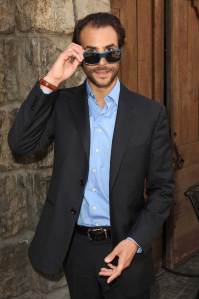 As Ben Silverman leaves NBC for IAC, we offer a look back at his time with the Peacock, and a look forward, to what he might do for Barry Diller.
Brand-tastic! Ben Silverman Might Look Back to Find Ad Models for the Future
BY GILLIAN REAGAN
Last week, when Ben Silverman announced his plan to flee from his turbulent 18-month post as co-chairman of NBC Entertainment and Universal Media Studios (see story at right) to start a new multimedia company at IAC with Barry Diller, he gave few specifics about exactly what his new project will look like. His "dream team" of show producers, marketers and advertisers, which may or may not include longtime producer buddy Ryan Seacrest, "will aim to go further than the industry has gone before" in bringing advertisers and content creators together to create Web, TV and even mobile shows, according to IAC. But when Staci Kramer at PaidContent asked Mr. Silverman about his last gasp at NBC—shifting Jay Leno to a nightly prime-time show—and what it might look like under his new company's gaze, he mentioned McDonald's.
Ben Silverman, the Consummate TV Executive
BY CHRISTOPHER ROSEN
"I plan to stay at NBC as part of the NBC family. I'm happy there. I'm committed." So said Ben Silverman, the much-maligned former NBC Universal Entertainment co-chairman, in an interview with The New York Times published this past May. Now, just three months later, he has parted ways with what was his dream job (the story goes that, as a child, Mr. Silverman only wanted to become president of NBC, eschewing such conventional boyhood pursuits as astronaut or cowboy) to join up with Barry Diller at IAC, where he'll run a multiplatform production company. Folks who feel that shows like The Biggest Loser have ruined our culture may cheer, but it's worth taking a moment to evaluate Mr. Silverman's entire reign at the Peacock. Was it really that bad?