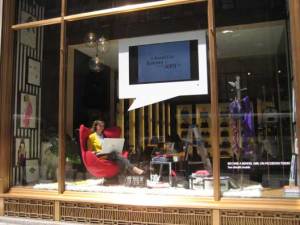 Perhaps you missed the fact that Henri Bendel, the department store that recently announced it would cease to sell clothing, recently placed a live, smiling, actual woman in their store window as part of an Internet social-networking promotion? Visitors heeding her siren summons and permitting employees to shepherd them to an in-store laptop became Facebook fans of the store, receiving a 20-percent-off coupon good through Sept. 13.
Her name was Erica Sweaney, and she spent the week of Aug. 18 sitting on a big red chair in five-hour shifts, her hair in neat blond curls, pretending to use the Internet and waving at the pedestrians on Fifth Avenue. "Become a Bendel Girl on Facebook today," read neon green text on the glass.
Ms. Sweany works with Soza Models, an agency that according to its Web site "provides model staffing to enhance special event marketing and upscale promotional campaigns and events."
"Soza Models' experience includes, but is not limited to: red carpet, product launches, trade shows, showrooms, store openings and street teams," the site elaborates.
"So many weird gigs," said Ms. Sweany, whose primary pursuit is musical theater, of her previous experiences. "I was a human statue."
Although the Bendel gig was silent and largely stationary, it did demand bold facial expressions and a steely determination to entertain. Ms. Sweany smiled wide, tongue pinched between her teeth, dimples in full effect. She gave a classic parade wave (fingers together, palm cupped), maintained expectant eye contact and beckoned passersby inside.
Babies responded enthusiastically. Guys stared back while their girlfriends were busy texting. The 12-to-15 demographic appeared wary. Many passersby smiled back
"You normally don't see so many New Yorkers smile," the man at the register told a family of German tourists. (But were they New Yorkers?)
Ms. Sweany swiveled her chair to chat with the tourists: What were they doing in the city? How long were they here? They got married, too?
"No, no, we came over on the Queen Mary 2."
"How exciting that is! Enjoy your time!"
In between waves, Ms. Sweany drank water from a striped Bendel tea set. She combed her necklaces with her fingers and made occasional indelicate spinal adjustments.
It was, on the whole, a low-tech operation: Her laptop was fake. The sleek white prop had a Bendel logo in place of the Mac one, and the blue silhouette of Facebook anonymity on the screen. On the "keyboard" sat the handwritten notes she receives from Bendel's employees, which say things like "Watch out for this weird guy that keeps coming around."