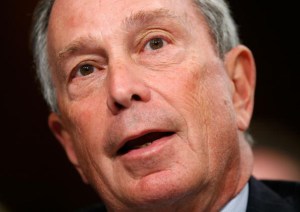 Citing the "impressive success" of his own administration's anti-social-promotion policies in city schools, Mayor Michael Bloomberg announced today that the city would expand the program by ending automatic advancement in the fourth and sixth grades.
Bloomberg spoke at the Patrick Henry Preparatory School on East 103 street in front of children's books, his schools chancellor, Joel Klein, and the deputy mayor for education, Dennis Walcott (who he thanked for a "brief and thankfully uneventful" time as president of a temproary Board of Education). He said it would be "inconceivable" that his appointees on the educational panel would fail to support the plan.
After much touting of his record in improving test scores under his control, the mayor took questions on a wide variety of topics, though most concerned the fatal crash between a small plane and a helicopter above the Hudson River this weekend.
"I'm not going to pressure the FAA," said Bloomberg, a pilot himself, who repeatedly avoided placing blame for the crash on a lack of oversight by aviation agencies or an overflow of airtraffic. He said that the crash was a tragic accident, but pointed out that "a pilot's first responsibility is to see and avoid" and suggested the airspace above New York was not appropriate for inexperienced pilots because it required quick decisions and immediate communication with air traffic controllers.
Unprompted, Bloomberg concluded his lengthy presser by referring back to his remarks on Meet the Press, signaling that the Mayors Against Illegal Guns organization that he has spearheaded, and helped fund, would take further steps in its "fight against the NRA."
"We've been outgunned by the money and the lobbyists and the scare tactics of the NRA," said Bloomberg, adding that the group would make an effort to "match that level of spending."
Asked how much additional money he would personally put into the effort, Bloomberg said, "I don't have an answer to that, but a lot of people also have contributed and I'll get them to contribute too."
Asked whether that money would be directed toward a national media campaign or television advertisements, he said, "We don't know. We'll see down the road."
Bloomberg said that the NRA had been successful at "rolling" legislators and pointed at one loophole in particular that allowed gun dealers who lost their licenses for selling guns to criminals to continue selling in a different venue without background checks.  "It's like if you arrest somebody for dealing drugs and then they say wait a minute, I've got this inventory of crack. Let me go and sell it at the local playground."