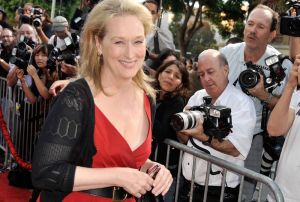 No need to channel-surf! Here's a list of notables on late night tonight. We'll post each weekday, for your convenience!
The Late Show with David Letterman (CBS, 11:30pm): Mike Myers, Ken Bruns.
The Tonight Show with Conan O'Brien (NBC, 11:35pm): Meryl Streep, Judd Apatow, musical guest The Fray.
Jimmy Kimmel Live (ABC, 12:05am): No New Episode.
Late Night with Jimmy Fallon (NBC, 12:35am): Betty White, Opie & Anthony, musical guest Martha Wainwright.
The Late Late Show with Craig Ferguson (CBS, 12:35am):Dane Cook, Peter Travers.
Last Call with Carson Daly (NBC, 1:35am): Kevin McKidd, Ida Ljungqvist, musical guest Brett Dennan.
The Daily Show with Jon Stewart (Comedy Central, 11:00pm): Tim Gunn.
The Colbert Report (Comedy Central, 11:30pm): Ang Lee.
Chelsea Lately (E!, 11:00pm): Marlee Matlin, comedians Jo Koy, Whitney Cummings and Kevin Hart.