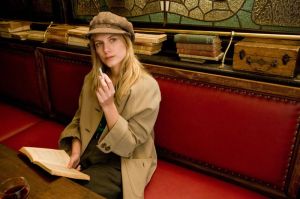 Thanks to Quentin Tarantino, business was a-boomin' at the box office over the weekend. Inglourious Basterds scalped the rest of the field, pulling down a very impressive $37.6 million, good for not only first place, but also the biggest opening of the acclaimed director's career. For Mr. Tarantino's brother-in-arms, Robert Rodriguez, the news wasn't as celebratory: His kids film, Shorts, landed in sixth place with just $6.6 million. It could have been worse for Mr. Rodriguez, though: The weekend's other new release, Post Grad, opened in tenth place, with just $2.8 million. As we do each Monday, here's a breakdown of the top five at the box office.
1. Inglourious Basterds: $37.6 million ($37.6 million total)
Call us Tarantino apologists—and we probably are—but this feels like one of the more impressive bows of the summer. How else to qualify Inglourious Basterds—a R-rated film with a running time north of two and a half hours, and featuring more subtitles than your average trip to Film Forum—grossing more than the openings of Funny People, Public Enemies, Bruno and The Taking of Pelham 1 2 3? Credit for this should probably go to the marketing campaign put together by the Weinstein Company, which sold audiences on a wham-bam revenge flick starring Brad Pitt. That Mr. Pitt only appears in roughly half the film should cause a precipitous drop next weekend, but by then it won't matter. Basterds is already a winner.
2. District 9: $18.9 million ($73.4 million total)
Cloverfield, this is not. With a better-than-expected 49 percent decline from last weekend, District 9 has reached $73.4 million overall, meaning $100 million is within easy grasp. We wonder if the successes of this and Inglourious Basterds, two critical darlings, have forced certain film critics to rethink their notion that audiences are stupid. …
3. G.I. Joe: Rise of Cobra: $12.5 million ($120.5 million total)
Um, probably not. Would you believe that not only is Rise of Cobra still raking in the dough—a mere 44 percent depreciation from last weekend—but also that it crossed $120 million domestic and has an outside shot at reaching $200 million overall? Maybe there is something wrong with the viewing public.
4. The Time Traveler's Wife: $10 million ($37.4 million total)
Fresh off the news that The Time Traveler's Wife would go to series (thanks, ABC!), the feature film version dipped a reasonable 46 percent during its second weekend and continues to steamroll towards $60 million domestic. With a manageable $40 million budget, it looks like the bottom line of The Time Traveler's Wife is going to make a lot of people happy, even if the film itself did not.
5. Julie & Julia: $9 million ($59 million total)
With the lowest decline in the top 10—a ridiculously slim 25 percent—Julie & Julia has officially become the leggy hit we envisioned it would be when it opened. The Meryl Streep–Amy Adams paean to cooking and female empowerment has grossed $59 million to date and could conceivably cross $90 million overall with some luck. Plus, the film helped Julia Child get her first New York Times No. 1 best seller over the weekend. Bon appétit, indeed!