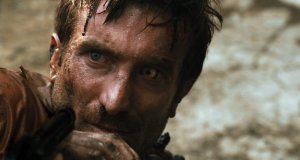 Being "for humans only" didn't really hurt District 9 at all. The Peter Jackson–produced film was the "surprise winner" at the box office this weekend—really, though, did anyone expect anything else?—grossing an estimated $37 million to lead a busy frame that saw three other new releases enter the top 10: The Time Traveler's Wife jumped into third place with $19.2 million; The Goods: Live Hard, Sell Hard, crashed into sixth place with $5.4 million; and Hayao Miyazaki's Ponyo swan into ninth with $3.5 million. In less happy news, Disney's Bandslam opened in 13th, despite the presence of a new trailer for New Moon. Between this result and those infamous naked pictures, we're guessing that August hasn't been the best month for Vanessa Hudgens. As we do each Monday, here's a breakdown of the top five at the box office.
1. District 9: $37 million ($37 million total)
Score one for the film critics? The critically acclaimed aliens-among-us treatise wound up opening only $3 million behind last year's similarly viral Cloverfield. Neill Blomkamp's film has already earned back its $30 million budget, but for Sony's sake, hopefully the word of mouth holds up better than it did with Matt Reeves's monster movie. In weekend two, Cloverfield tumbled an outrageously bad 68 percent. Stay tuned.
2. G.I. Joe: The Rise of Cobra: $22.5 million ($98.7 million total)
For all the talk of how terrible G.I. Joe is, that it "only" dropped 59 percent this weekend has to be considered a huge win. Think about it: Rise of Cobra held up better in its second weekend than other big ticket events like X-Men Origins: Wolverine, Terminator Salvation, Harry Potter and the Half-Blood Prince and Transformers: Revenge of the Fallen.
3. The Time Traveler's Wife: $19.2 million ($19.2 million total)
If we're to believe actress Mindy Kaling, there are a lot of happy gentlemen this morning. Despite being delayed for almost a year, The Time Traveler's Wife scored a fairly impressive opening weekend, making it yet another female driven romance to perform admirably this summer. We've been waiting for Rachel McAdams to become the next Julia Roberts, but instead, it looks like she's a female version of Ryan Reynolds. In the right vehicle, she can find a huge opening (see: Wedding Crashers), but mostly, she's good for midrange box office receipts.
4. Julie & Julia: $12.4 million ($43.6 million total)
Slow and steady wins the race. Julie & Julia dipped a sturdy 38 percent this weekend, pushing its cume just under $44 million. With nothing on the horizon for adult women over the next few weeks and, presumably, better word of mouth than The Time Traveler's Wife, Nora Ephron's foodie flick could wind up grossing upwards of $80 million. We were expecting more, but this still has to go into the ledger as a late-summer win.
5. G-Force: $6.9 million ($99 million total)
Disney's G-Force easily topped the opening weekend of the Will Ferrell–produced The Goods: Live Hard, Sell Hard ($5.4 million) to finish fifth over the weekend. In the process, G-Force came just short of crossing the $100 million barrier. Such is life for the Frat Pack in the summer of 2009: A bunch of talking guinea pigs have grossed more than Year One, Land of the Lost and now The Goods, combined.