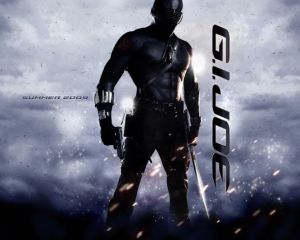 It turns out that people in the flyover states like movies, too! At least that'll be the meme running through the blogosphere today as G.I. Joe: The Rise of Cobra exploded into the No. 1 slot this weekend, grossing an estimated $56.2 million to pace the field. Landing in second was the cooking comedy Julie & Julia, which whipped up an estimated $20.1 million, meaning this could be the third summer in the last four that has seen Meryl Streep open a movie over $20 million. (Before you send Ms. Streep a card, though, keep in mind that when the final numbers are released later today, Julie & Julia might dip below $20 million.) Unfortunately, the weekend's other wide release, A Perfect Getaway, was anything but: The Honeymoon thriller opened in seventh with just $5.7 million. As we do each Monday, here's a breakdown of the top five at the box office.
1. G.I. Joe: The Rise of Cobra: $56.2 million ($56.2 million total)
Score one for the inner children in all of us. The Rise of Cobra still faces a tough slog on the path to breaking even—with a production and marketing budget nearing $300 million, the film will need to crack that number worldwide to have a chance—but this could have been a whole lot worse. As it stands, Rise of Cobra is the fourth biggest opening ever in the month of August, behind only The Bourne Ultimatum, Rush Hour 2 and Signs. We guess Paramount knew what they were doing after all.
2. Julie & Julia: $20.1 million ($20.1 million total)
Is it sacrilege to call this opening a bit of a disappointment? With The Great Meryl becoming a legitimate box office draw in the last five years, we were expecting something more from Julie & Julia. To wit: Not only is this opening lower than both The Devil Wears Prada ($27.5 million) and Mamma Mia! ($27.7 million), it's also lower than other female-centric pictures this summer like The Ugly Truth. Nora Ephron's comedy will definitely have legs—and, more important, it was cheap to produce—but this isn't the smash we anticipated.
3. G-Force: $9.8 million ($86.1 million total)
With the exception of (500) Days of Summer, which expanded to 817 theaters and grossed 34 percent more than it did last week, G-Force and its 44 percent drop is the proud owner of the lowest decline in the top 10. At $86.1 million total domestically, the talking guinea pig comedy has to rank as one of the more surprising hits of the summer.
4. Harry Potter and the Half-Blood Prince: $8.8 million ($273.8 million total)
Everyone's favorite boy wizard continues to rake in the cash, as The Half-Blood Prince is now up to an eye-popping $815 million worldwide after just 26 days of release. Domestically, David Yates' film is now the fourth biggest hit in the franchise and could wind up behind only the first film, Harry Potter and the Sorcerer's Stone, before all is said and done.
5. Funny People: $7.8 million ($40.4 million total)
Last weekend's No. 1, Funny People, slipped a Bruno-like 65 percent to fall into fifth place, and barely edged out weekend three of The Ugly Truth ($7 million/$69 million total) in the process. At this rate, Judd Apatow's lengthy dramedy might have a tough time crossing $60 million, meaning it will be the lowest grossing movie of his directorial career by over $40 million. Ouch. We're guessing next time he'll stick with a more marketable premise.