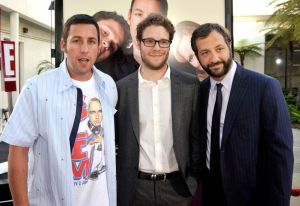 Perhaps Judd Apatow is smirking all the way to the bank. Funny People, the hirsute director's third film, opened in the No. 1 position at the box office this weekend, scoring an estimated $23.4 million in ticket sales. Unfortunately, that makes Funny People the lowest-grossing film to reach No. 1 this summer, an honor we're not quite sure everyone at Universal was hoping for back when the season started. As we do each Monday, here's a breakdown of the top five at the box office.
1. Funny People: $23.4 million ($23.4 million total)
Like the marketing campaign, which could never find footing between the comedy and drama that Funny People employs fairly equally throughout its two-and-a-half-hour running time, we're not entirely sure what to make of this opening gross. For an Adam Sandler movie, it's on the low end—not counting Reign Over Me, which opened on just under 1,700 screens, this is his worst opening since Spanglish started with $8.8 million in 2004. For Mr. Apatow, Funny People checks in well below the $30.7 million that Knocked Up pulled down two summers ago, but slightly ahead of The 40-Year-Old Virgin (though not in tickets sold). You'll read today how this is yet another disappointment for Universal, but since Funny People is an R-rated dramedy with a prohibitive length, we're not quite sure what everyone expected; it was never going to be The Hangover. As usual, word of mouth will be the deciding factor in how this does moving forward.
2. Harry Potter and the Half-Blood Prince: $17.7 million ($255.4 million total)
As The Half-Blood Prince steamrolls towards $300 million at the domestic box office, it's a good time to look at how things are going internationally. Globally the boy wizard has accrued an astonishing $747.8 million, making it the second biggest hit of the year, behind only Transformers: Revenge of the Fallen. The moral of the story: Buy Warner Brothers stock!
3. G-Force: $17 million ($66.4 million total)
Dipping a reasonable 46 percent in weekend two, G-Force held its own, finishing just behind Harry Potter, and now seems poised to crack $100 million at the box office this summer. If we would have told you in early July that G-Force would handily out-gross Brüno, we don't necessarily think you would have believed us.
4. The Ugly Truth: $13 million ($54.4 million total)
Everyone might hate Katherine Heigl, but they certainly keep going to see her movies. The Ugly Truth dropped a to-be-expected 53 percent and managed to up its cume to over $50 million, putting it well on course for nearly $80 million in ticket receipts. With a budget under $38 million and an R-rating, we can't imagine anyone at Sony being upset with this performance.
5. Aliens in the Attic: $7.8 million ($7.8 million total)
Aliens in the Attic edged out the second weekend of Orphan ($7.2 million/$26.7 million total) to finish in fifth place. If you ever found yourself wondering what a movie dumped on 3,106 screens would look like, you now have an answer.