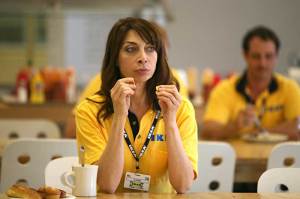 Last week, when Ben Silverman announced his plan to flee from his turbulent 18-month post as co-chairman of NBC Entertainment and Universal Media Studios (see story at right) to start a new multimedia company at IAC with Barry Diller, he gave few specifics about exactly what his new project will look like. His "dream team" of show producers, marketers and advertisers, which may or may not include longtime producer buddy Ryan Seacrest, "will aim to go further than the industry has gone before" in bringing advertisers and content creators together to create Web, TV and even mobile shows, according to IAC. But when Staci Kramer at paidContent asked Mr. Silverman about his last gasp at NBC—shifting Jay Leno to a nightly prime-time show—and what it might look like under his new company's gaze, he mentioned McDonald's.
"The McDonald's deal that we made with Jay confirms what I saw as Jay's ability to be DVR-proof, topical, day and date and to deliver," Mr. Silverman said. "McDonald's, this great bleeding-edge marketer, saw this an opportunity to play out their Monopoly game."
As NBC announced in July, Mr. Leno will be a kind of top-hat-and-cane-wielding Mr. Monopoly mascot who will promote the time-eternal McDonald's game during his show. In a prerecorded, second-act segment, NBC actors like, say, Tina Fey, will roll a pair of dice on a giant set that might look like the Price is Right inside a McDonald's restaurant. If they roll a pair of sixes, players at home who signed up online could win $1 million. "What's the greatest place to pay it off where you can also drive people into McDonald's? The Jay Leno show," Mr. Silverman cooed. "Better than anything else they can do."
In a TV world rocked by new media, dwindling ad dollars and TiVO/DVR's fast-forward function, advertisers want to do more than have characters drink their brand of beer or drive a certain car: They want to be part of the show's very DNA, down to script writing and set building. It sounds radical and possibly icky to a public that's become used to tuning out (or skipping altogether) those periodic interruptions of our favorite programs. But, for all his touting about "breaking new ground," Mr. Silverman's new company might, in fact, just be taking TV back to the old school.
Remember those single-sponsored shows of the '30s and '40s? The Ed Sullivan Show was sponsored by Lincoln-Mercury. There was the Colgate Comedy Hour, Ford Star Jubilee and the General Electric Theater. The program could not be produced without the advertiser, and the advertiser needed the show's endorsement. Audiences accepted the relationship between the two, and they will likely need to again.
Mr. Silverman, of course, has never been bothered by shoving brands in front of viewers' eyeballs. Advertisers were investors in his Reveille-produced reality series The Restaurant before he even officially joined NBC. General Motors cars were worked into scripts for the short-lived Christian Slater vehicle My Own Worst Enemy, and Ford offered a Mustang as Knight Rider's babbling vehicle (perhaps a Prius would have brought the show more success!).
In April 2008, Mr. Silverman announced a deal with Liberty Mutual to present NBC's Kings under the insurance company's banner, which was part of their "branded entertainment initiative," and involved independently filmed movies online. Liberty Mutual eventually stepped back their branding efforts for the show, but Mr. Silverman told The New York Times at the time: "We're going backward, 100 percent."
At IAC, Mr. Silverman seems to want not just to weave brands into story lines—but to create shows organically enmeshed with single sponsors. This is a model that is already in full swing on the Web—a kind of testing ground to see how far brands can push integration with content creation.
Consider Illeana Douglas' Easy to Assemble, a Web show written and produced by Ms. Douglas, who stars as an Ikea worker trying to escape showbiz. The show, which premiered online last year on TV.com and then a bunch of other platforms, features funny dialogue, quality production and a hilarious cast of A-list B actors, including Justine Bateman and Ed Begley. Ikea signed on as a sponsor, and marketing head Magnus Gustafsson joined to oversee story lines and plot outlines. Yet, for the most part, they let Ms. Douglas do as she pleased, even poking a little fun at the store's quirkiness.