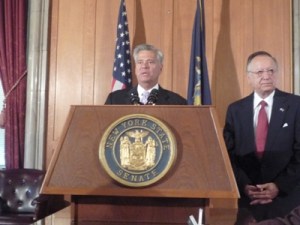 ALBANY—Apparently, in addition to the Assembly's school-control bill and the four chapter amendments to increase parental involvement, the State Senate passed a resolution today by a voice vote that will create a panel to oversee the public schools.
Senate Minority Leader Dean Skelos and Senator Frank Padvan, a Republican from Queens who is sponsoring the Assembly bill in his chamber, revealed the resolution to the reporters at a press conference this morning.
"It's re-emphasizing what's already there," Padavan said, noting that the task force will have the power to hold hearings, subpoena witnesses and issue reports. It will not have a formal role in moving legislation. There will be four Democrats and three Republicans on the task force.
"It's redundancy. I think it has to do with their conference politics," Skelos added. "This is something that becomes a little more feel-good for them."
Both men said they would support the resolution. Micah Lasher, a lobbyist for the City Department of Education, said the city took no position on the resolution. Democratic Senators Bill Perkins and John Sampson spoke in favor of the resolution.