"This is what Marie Antoinette would have had if she had taste," is how Joan Rivers described the Versailles-inspired décor of her East 62nd penthouse as she stood under the ballroom ceiling, which was painted a light blue with white clouds, on Monday, Aug. 3. "All comedians are very strange, and I love 18th-century France."
Ms. Rivers does not remember exactly how much she paid for her duplex 20 years ago, but she knows it wasn't much. "When I first walked in, the roof was broken and a pigeon was flying around," she said. In June, Ms. Rivers put the apartment on the market for $25 million. She will be relocating to the West Coast to be closer to her daughter, Melissa, and grandson, Edgar. "I'm looking for a rich Russian, and we're not arguing price," she said. "You can't afford it, don't buy it."
Wearing a black pantsuit and low-hung pearls and draped in a dark purple, floor-length cardigan, Ms. Rivers, 76, was celebrating her new show on TV Land called How'd You Get So Rich?, premiering on Aug. 5. A man was playing show tunes on a piano covered in photos of Prince Charles, Camilla Parker-Bowles and Liza Minnelli.
"You see that guy over there? He started mowing lawns at 7 years old and bought the competition out at 8!"" said Ms. Rivers, pointing to a heavy-set gentleman in a shiny blue shirt and blazer. She stuck out her finger again in the opposite direction. "There is a woman over there, 49 years old, her husband left her, she never worked a day in her life. She went to makeup school and now sells camouflage makeup to armies all over the world!"
Ms. Rivers was interrupted by a photographe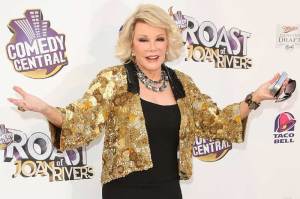 r eager to snap her with NBC anchor Hoda Kotb and The View's Joy Behar. Then a curvy woman in a yellow leopard-print dress and burgundy hair approached.
"We met on Rodeo Drive!" said Ms. Rivers of the woman, named Eve Michaels, an image consultant in Beverly Hills who appears on the show. "She looked so rich so I said, 'You look rich, what do you do?'"
"I've loved Joan since I was a little girl," Ms. Michaels said. "On her show, she'd always say, 'You have to shave from your ankle to your chin,' and that really made an impression on me."
Standing nearby was another of Ms. Rivers' discoveries, Jonah White, 39, from Illinois. Mr. White owns a company, billybobproducts.com, that sells crooked, dingy novelty teeth. "I've sold 15 million of these," he said. Much like her show's subjects, Ms. Rivers was considered new money some time ago. "When I moved here, someone slipped a note under my door saying, 'We don't want you or your Vegas money,'" she said. These days, Ms. Rivers is the president of the building's board. (She was rumored to have prevented the late Susanna Agnelli, of the Italian family that founded the automobile company Fiat, from buying a second apartment in the building.)
If you ask Ms. Rivers how she got so rich, she will tell you about her 50-odd years doing stand-up, acting, writing books, judging red-carpet looks, hosting talk shows and selling jewelry on QVC. She will publish two more books in the next year and put on a show in London.
"Cher said something very smart to me over dinner recently," said Ms. Rivers, contemplating all of this. "She said, 'We're performers, we perform.'"