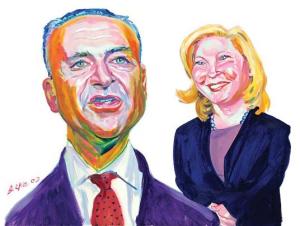 These days, on the subject of his own influence, Senator Chuck Schumer is unusually demure.
"I'm not going to assess my influence," Mr. Schumer told The Observer at his weekly Sunday press conference. "I'm working hard on a whole lot of different things. God blessed me with a lot of energy and I try to expend it for the public good."
Other officials in New York and Washington are considerably less reserved on the topic.
"I think he's the future majority leader," said Representative Eliot Engel of New York, in response to a general question about Mr. Schumer's influence. "I do."
There is a reason for this. Mr. Schumer has a good thing going, and he doesn't want to mess it up by going around stating the premise too publicly.
So, for example, the very mention of the words "majority leader" within 10 inches of Mr. Schumer's name drives him and his office, pretty literally, insane, since there is no evidence that he is actively maneuvering for that particular position or that he is anything but supportive of the current majority leader, Harry Reid. Mr. Schumer, for whom this seems to be a highly sensitive issue, wants to make sure that's abundantly clear.
"We have the ideal leadership team in place—led by Senator Reid—in the Senate, and I hope to stay in my current position for a very long time," Mr. Schumer said in a statement. "Harry is an extraordinary Majority Leader and one of my close personal friends. I am doing everything I can to see that he is reelected so I can continue to serve with him for the benefit our party, the Senate and the entire country. In my 35 years as a legislator, I have not seen anyone more able to take a diverse caucus and weave it in to a unified, effective legislative family."
(Harry Reid is up for reelection this year. Recent polls show that he is highly vulnerable.)
But the thing is, at this point, Mr. Schumer might not need the title of majority leader any more than he needs to be named Most Powerful Democrat in New York. Right now, his dominance is just a fact of life.
Consider: He is playing a central role in the national debates about the economy, health care, immigration and the Supreme Court, but he is also the political tactician who engineered the balance-shifting election of two new classes of Democratic senators—a block of 14 legislators who all owe him big and still count on him, more than anyone else, for strategic advice and fund-raising help. He is undoubtedly the most powerful Democrat in New York, and his critical support for the fledgling senator Kirsten Gillibrand has ensured that he will effectively be able to cast two votes on any given issue in the chamber.
Local officials, who have an obvious interest in Mr. Schumer's ability to throw his weight around on New York's behalf, seem to understand this.      
"I think Chuck Schumer would be good at anything he does, majority leader or anything else," Michael Bloomberg told The Observer at a press conference a few blocks down from Mr. Schumer's office. He continued, "He's helped a lot of other senators, which gives him the access and ability to at least get an audience and maybe even convince them, and you should not make light of that. I would rather have Chuck Schumer than almost any other senator, maybe any other senator, representing this state and this city. At one point, a lot of people were urging him to run for governor, he chose not to, he's making his career in the Senate and every day he is just going to get more powerful."
Gillibrand's Enforcer
Mr. Schumer's management of the Gillibrand situation is both an illustration of the power he's able to wield in New York and a leading indicator of the influence he's amassing in Washington.
After Ms. Gillibrand was named by David Paterson (in consultation with Mr. Schumer) to replace Hillary Clinton, recall, there was considerable resistance from the rest of New York's House delegation, and multiple vows of a primary challenge.
That's sort of over with, thanks to a distinctly Schumeresque series of maneuvers.
He reportedly helped head off the most formidable potential challenger, Representative Steve Israel, by organizing a last-minute intervention by White House Chief of Staff Rahm Emanuel.
Mr. Schumer also did a number on another Gillibrand-resenter, Carolyn Maloney, who has now delayed a long-promised announcement of a primary challenge several times, and looks likely to drop the idea altogether.
First, Mr. Schumer sabotaged an engagement with her first choice of campaign consultant.
As of the beginning of June, Ms. Maloney's was referring press calls to Josh Isay, an operative who used to work for Mr. Schumer. A week later, the campaign began referring calls to another consultant, Joe Trippi. At the time, Mr. Isay denied that a call from Mr. Schumer or his aides had anything to do with his apparent disengagement. But on July 1, The New York Times reported that Mr. Isay distanced himself after Mr. Schumer expressed disapproval.
(Mr. Schumer's office told The Times that he had "done nothing more than inquire about a news account that said Mr. Isay was joining Ms. Maloney's effort.")
Mr. Schumer's purposefully directed attentions proved equally effective in choking off Ms. Maloney's institutional support.
According to one Democrat representative in New York, Mr. Schumer made the case against supporting her in practical terms: "She can't do this. She can't put this together," the member said. 
Mr. Schumer, who is widely known to have a low personal opinion of Ms. Maloney, also let it be known to her would-be supporters that there was a personal aspect.
"If the senator makes a phone call and says, 'Look, this is important to me,'" said another Democratic member of the delegation, "that goes long a way."
He also called Representative Carolyn McCarthy of Long Island, according to a congressional source with knowledge of the call, and asked her not to run. (Josh Vlasto, Mr. Schumer's spokesman, denied that he asked her not to run.)
"He is doing what a senior senator should do," said Representative Gregory Meeks. "I don't think you need a primary or a divisive fight."       
Like Two Senators, at Least
Ms. Gillibrand knows who her benefactor is, and acts accordingly.
During her introductory press conference as senator, she said, "Senator Schumer has been an inspiration to me," and added that she hoped to "mirror" his performance in the Senate. She has referred to him on a number of occasions since then as a "mentor."
The transactional meaning, to Congressional insiders, is clear.
"If he has to carry her forever, it is a resource strain," said one aide to a Democratic member of Congress. "But he has a feeling that he will be able to carry her this one time and then own her for the rest of his God-given life. He'll be two senators."
What this means, practically, is that Mr. Schumer will be able to ensure powerful constituents, the way he once spoke to Jewish groups about Hillary Clinton, that his junior colleague will look to him on important votes. It also means that he'll simply be able to cover more ground, giving him what will inevitably be seen as a proxy voice on, say, the Senate agriculture and aging committees.
("New Yorkers are well served by having two senators who work so closely together," said Matt Canter, a spokesman for Ms. Gillibrand. He also said, "Their committee assignments complement each other.")
And that's just the obvious stuff. If Mr. Schumer wanted to help an interest group by proposing amendments to a piece of legislation or by suggesting a specific narrow regulation to the White House, and it's inconvenient for him to do so, he may well be in a position to ask Ms. Gillibrand to do him the favor of asking on his behalf. 
"He gets to stay clean," as the Congressional aide put it.
It's not just Ms. Gillibrand, though. Mr. Schumer also has the support, theoretically, of the 14 senators he recruited and trained and helped elect during the 2006 and 2008 election cycles. And while Mr. Schumer is no longer officially the chairman of the Democrat Senatorial Campaign Committee, he is still considered the most effective and sought after fund-raiser for Democratic candidates.
While managing to maintain his own $15 million war chest, he is still making the time necessary to stay immersed in retail political activity for them, and for himself.
On July 3, at Washington Post heiress Lally Weymouth's annual summer party in South Hampton, Mr. Schumer worked the crowd of business moguls, media leaders and foreign dignitaries under a sprawling tent. He talked with guests who expressed concern about the economy and curiosity about the state of affairs in Washington. One attendee noticed that Mr. Schumer made certain that every discussion ended up focusing on the expanded role Chuck Schumer was playing in the United States Senate.
"He was talking to everyone and everyone was talking to him," said the attendee. "And he kept coming back to his role."
More recently, on July 17, he appeared at an event thrown by Steven Rattner and Maureen White in Martha's Vineyard to raise money for Representative Paul Hodes, who is running for Senate in New Hampshire.
The Schumer Median
He is, in fact, in the middle of everything.
Mr. Schumer wrapped up the prepared remarks of his Aug. 2 (Sunday) press conference by calling for a study into lagging arrivals at New York area airports with the voice of a disappointed father reprimanding his underachieving children.
He removed his glasses, tucked them into the pocket of a blue blazer that he wore over an open-collar white striped shirt, and took questions on other topics.
Asked about the federal Cars for Clunkers program, he spoke with much more animation.
"I would like to see the environmental requirements be toughened a little," he said. "But not at the sake of the program."
Asked about the Senate failure to meet Mr. Obama's summer deadline to get a health care bill out of the Senate, he said the extra time was necessary to do things correctly.
On the Senate Finance Committee, he has acted as the point man on the public plan in the health care debate. While the negotiations are ongoing and torturous, there is a chance that the bill that will emerge from the Senate will resemble the proposal Mr. Schumer made all the way back in May to address concerns that a public program would drive private insurers from the market.
Mr. Schumer originally called for a plan that could raise enough money from premiums and co-pays as to be self-sustaining, require a reserve fund and not receive tax revenue or appropriations from the government. Mr. Schumer's public plan would pay doctors and hospitals at a rate higher than Medicare and be regulated by different officials than those overseeing the insurance market.
"The number one thing we need to do with health care is reduce costs," he said. "The two places in the economy where costs that affect the average middle-class person have gone up the most are college tuition and health care. Now, we did something about college tuition. It's my law."
As the chairman of the Senate Immigration Subcommittee, Mr. Schumer has taken the lead on the effort to pass comprehensive immigration reform, characteristically staking out as much of the middle ground as possible by rejecting the "undocumented workers" language and stating a major address in June that "illegal immigration is wrong—plain and simple." He also outlined proposals to better secure control of the nation's borders and require illegal immigrants to register with the government and immediately begin a legalization process or face deportation.
As a senior senator on the Senate Banking Committee, he has, for better or worse, become the face and voice of Wall Street in Washington. 
And, as demonstrated by his impassioned opposition to Justice Samuel Alito and then tearful introduction of Sonia Sotomayor, Mr. Schumer is a key figure on the Senate Judiciary Committee.
Representative Nydia Velazquez said she went to Mr. Schumer's office on Feb. 12 with a file about Ms. Sotomayor, just in case a spot on the Supreme Court opened up. She said Mr. Schumer took the recommendation and ran with it.
"It was great to see that he was able to sell this candidate to the White House as the best-qualified candidate," said Ms. Velazquez, who called Mr. Schumer an "800-pound gorilla."
After the press conference, Mr. Schumer shuffled out from behind the podium in his loafers and khakis and said, "Thanks, everybody." He stopped in front of the short row of television cameras to instruct a local television reporter about which portion of his answer on unemployment figures deserved particular attention.
Seeing a confused look cross the reporter's face, Mr. Schumer offered to help.
"Do you want me to say that more succinctly?"