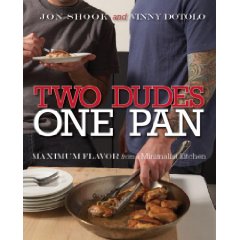 Over the past few years, pop-up (or temporary) stores have become a more common thing in New York. Falls, a small independent clothing line, opened one in the Salt and Battery space in the West Village in March; Yohji Yamamoto's luggage line, Y Mandarina, opened a three-month-long pop-up shop at 98 Greene in May; and Rachel Roy will open one in Soho at 11 Spring Street for her Macy's line on Sept. 10, which also happens to be Fashion's Night Out. (Brace for more pop-ups to be scheduled for that date.) In July, we wrote about various shops like Hermes and Magaschoni moving into spaces in the Hamptons temporarily and testing the waters of the market.
Now The Transom hears that a "pop-up restaurant" is opening next week at the Sole East hotel in Montauk. Just call it a chop-up! It will be a transplant of the Animal restaurant in Los Angeles operated by chefs Jon Shook and Vinny Dotolo. The rugged-looking duo used to have a Food Network show called Two Dudes Catering and published a cookbook called Two Dudes, One Pan. (NPR was especially fond of it and included it in its 10 Best Cookbooks of 2008 list.)
The restaurant will be open from Aug. 12 to Aug. 18 and will be housed in Sole East's already functioning restaurant, Backyard, which makes it sounds more like Earnest Sewn's Shop-in-a-Shop series, where the denim brand hosted a Ruffian, Moscot and Trovata in the back of their meatpacking district store. Apparently the current chef at Backyard, Larry Kolar, doesn't mind and will be collaborating with the L.A. chefs during their stay.
A rep for the pop-up restaurant told the Daily Transom that the chefs wanted to "bring their culinary expertise to the East Coast."