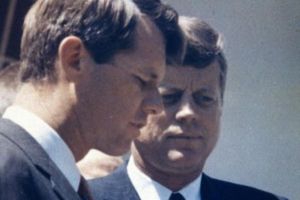 Of all the many political topics that Chris Matthews loves talking about, the subject of the Kennedy clan and its impact on American life always seems right near the top.
(One of ten trillion examples: "This is bigger than Kennedy," Mr. Matthews said of Barack Obama's candidacy last year in an interview with The Observer on Super Tuesday.)
So perhaps it's no surprise that later this month, Mr. Matthews will return to the subject of the Kennedy legacy in an in-depth, hour-long documentary for MSNBC, called The Kennedy Brothers.

According to today's press release, while reporting the documentary, Mr. Matthews sat down with a number of "key Kennedy insiders, including Kathleen Kennedy Townsend, Frank Mankiewicz, biographer Peter Canellos, and presidential historian Doris Kearns Goodwin," in order to deconstruct "the myth and legend surrounding this quintessential American family." The documentary will air on MSNBC during the 7 p.m. Hardball time slot on Thursday, Aug. 27.
More from the release:
The Kennedy Brothers documentary delves deeply into the family's saga and seeks to discover why we as a nation not only embrace the family legend, but seem to have a desire to make their story our story. It takes viewers behind the Kennedy legacy, exposing the family's scandals, personal recklessness, and dashed hopes. The program's insider access helps us come to terms with what this family has meant for American history—and what its absence will mean for America's future.