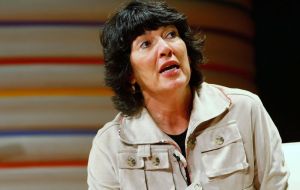 In January, Christiane Amanpour was covering the inauguration in Washington D.C. for CNN International when she was struck with an idea for a long-form project. President Barack Obama had said in his inaugural address that he wanted a new way forward for the Islamic world, and that the United States could no longer afford to have another generation of Muslims who view the U.S. as the enemy. She wondered: Would the next generation of young Muslims in the Middle East inevitably feel antagonistic towards the U.S.? Or were there tangible, effective ways of winning over their loyalties?
Ms. Amanpour spent much of the next 8 months reporting on those questions, and tonight at 9 p.m. on CNN, she'll unveil her findings in a two-hour documentary titled "Generation Islam."
The documentary focuses on a range of efforts being made in Afghanistan and Palestine to turn young Muslim children away from violent extremism. Along the way, Ms. Amanpour introduces viewers to a handful of Westerners devoted to the task and employing a range of tactics, from building new classrooms to constructing skate-boarding parks to creating TV shows. At one point, viewers are even introduced to something called "Muppet diplomacy."
Not long ago, we wrote about the surge of Western reporters returning to Afghanistan as the U.S. steps up military operations in the area. Ms. Amanpour said she decided to focus on children in Afghanistan and Palestine based on the administration's priorities.
"President Obama has identified two special envoys, one for Afghanistan/Pakistan," Ms. Amanpour told The Observer recently via phone from France. "And one for the Middle East peace process. That's why we chose those areas, because they are central to American security and to the efforts of the new American administration."
"And also because, both among the Palestinians and the Afghans, it's such an overwhelmingly youthful population," she added.
So are the efforts working?
"The big aggregate news that is good and optimistic is that militant-ism and extremism is declining," said Ms. Amanpour . "Whether it's in Afghanistan or Pakistan, the percentages are plummeting. That's where the opportunity lies. Now is the time to grab that opportunity."
"Nation building is not a luxury," she added. "It's an absolute imperative. And it can be done. The payback of success is huge and long lasting."
Ms. Amanpour believes that the U.S. today needs something equivalent to The Marshall Plan, which would help in part to intensify and coordinate civilian efforts to win over the young, impressionable members of the Muslim world. "What I came away with is a belief that if that is done, it is 100 percent assured of success," said Ms. Amanpour. "The people want it. The people are willing."
"The individual programs that have been attempted are successful," she added. "What I don't want is for people to say, 'Oh, she's just picked out a few stories that are hopeful.' I want to get across the idea that it is hopeful. That you can be optimistic about it. But it doesn't come cheap, and it doesn't come easy. It requires real patience. It requires being in there for the long haul."
In September, Ms. Amanpour will debut a new, eponymous hour-long program that will air weekly in the U.S. and will focus on international issues. For Ms. Amanpour, the show can't start a moment too soon.
"The lack of foreign news on American television is unconscionable," she said. Americans need to know what's going on in the world and what's being done in their name by their soldiers and also by the civilian effort. The notion that the most powerful country on Earth is cut off by their own media organizations from the real information about what their country is doing–it's untenable. It's wrong."