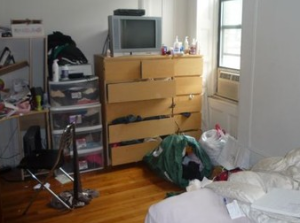 College students: They are wide-eyed, they are eager, and they will be resuming their studies in but a few short weeks! So how easy is it to dupe them? Unscrupulous Craig's Listers are optimistic.
Today's first lesson is that Brooklyn is not close to New York University. We'll concede the convenience of the L train, but the school hardly seems like an obvious selling point for a development in Williamsburg. But at least Williamsburg is more plausible than East Williamsburg, which, in turn, makes more sense than Bushwick. Likewise, 171st Street and 184th Street are not close to Columbia University. They're just not.
Another post, for an apartment at 159th and St. Nicholas, simultaneously claims to be both near Columbia and "mins from NYU." Minutes? Many minutes.
Ugly photos: Offensively hideous photography isn't technically a Craigslist lie–it's just a hugely baffling strategic error. Few things are more heartbreaking than a post that suggests its author has lost all hope in life! Why would you allow the public to see something that looks like a hellhole dorm room with an army of unmade beds? You couldn't close your drawers or move your mop out of the frame?
And if your real estate is so hideous that no picture could make it appealing, why bother with a photo at all? Ads that offer up a little pic of the skyline–a view that clearly has nothing to do with the given apartment–are even more depressing than the ones whose photos feature mops.
Reader submissions welcomed. Send examples of falsehoods and tomfoolery to mfischer@observer.com.