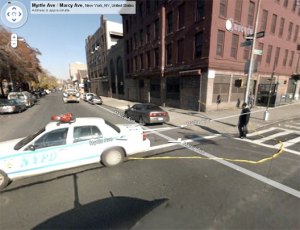 Safety Dance. Two categories of neighborhood advertise their safety on Craigslist: there's Upper East Side safe, and then there's East Williamsburg safe. One means "Safe, duh—unless you're scared of rich old people." The other means "Seriously, I've pretty much never been mugged." One is redundant; the other doth protest too much.
But perhaps it's better to be vigilant—after all, on Wednesday a sharp-eyed Curbed reader Google mapping a Bed-Stuy apartment from Craigslist stumbled upon a crime scene.
Going Back to Cali. A perennial source of Craigslist tomfoolery is the infinite stretchiness of neighborhood boundaries. Sure, maybe we'll accept places above 96th street as the Upper (Upper) East or West Side. But sometimes, Craigslist, you exhaust our generosity. The "mid-170s" are not the "Upper West Side." And it's not the "Upper East Side" if it has a two-car garage and "large fenced yard." In fact, we're not sure where in Manhattan you'd find the fence and garage, but the accompanying photo looks an awful lot like suburban California. (It's also not the Upper East Side if it's 118th Street; that maybe works on the West Side.)
Poo! And, finally: this is probably a typo, and that makes us wistful, because we really do like the sound of "14th Floor ~ Great View ~ Poo" on the Upper East Side.
mfischer@observer.com